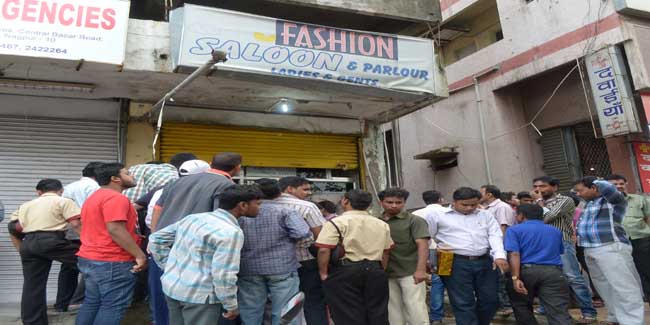 Nagpur News: Activists and office bearers of a political group raided a Fashion beauty parlour which was serving as cover for a flesh trade racket, at Lokmat Square, Ramdaspeth, right under the nose of city police.
The action has raised a serious question on the credentials of the city police and also involvement of officials in providing patronage to the the thriving flesh trade in the city.
According to the sources members of the political group gathered near Fashion Saloon and Parlour from Sunday morning. At about 1 am one of the activists was sent in as a punter. However, the ploy failed. Later another decoy was sent at 4 pm.
The activist who entered the parlour saw a man climbing up a staircase from within the shop. He signaled to other activist waiting outside, who barged into the saloon immediately. The police came to know of the so called raid and rushed to parlour.
Meanwhile, the political activist caught a girl red handed in compromising position. However, before the police could arrive the customers were allowed to escape.
Social wing of the Crime Branch rescued three girls from the shop along with owner of the parlour named Sheela, a resident of Sadar area.
According to sources she has been running the parlour from the last 5 years. On the other hand the police has also been on a look out for the owner of this shop.