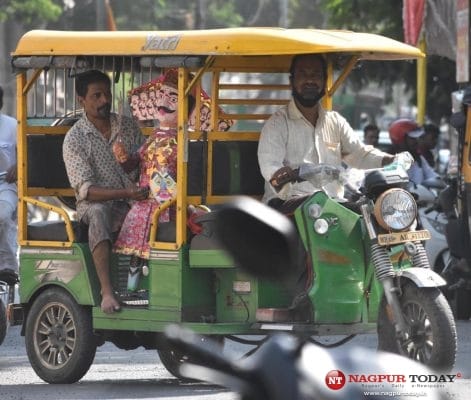 Nagpur: Even though the grand annual Ravan Dahan event on Dussehra at Kasturchand Park has been cancelled due to stringent and cumbersome Covid-19 norms, the enthusiasm among common people refuses to die.
Irrespective of cancellation of Ravan Dahan at KP Ground, a very curious scenario was witnessed in Nagpur wherein a common man was seen carrying an effigy of Demon Ravan in an e-rickshaw. The scene told an enthusiastic tale. Come what may, the age-old tradition would be followed in its grandeur, albeit, in small manner. The man transporting the effigy in an e-rickshaw would perform Ravan Dahan signifying the victory of good over evil in his own way.
It is pertinent to recall Sanatan DharmYuvak Sabha, Nagpur, has been organising 'Ravan Dahan' programme on the occasion of Dussehra festival every year at Kasturchand Park (KP) Ground for more than 70 years. However, for the second year in a row, the event has been cancelled due to several other reasons apart from Covid-19 pandemic.