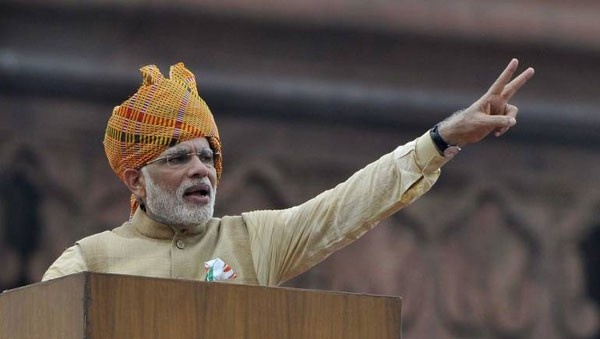 New Delhi: On the 72nd Independence Day, Prime Minister Narendra Modi presented his Government's report card before the nation. Setting the tone for his last address during this tenure, Modi said, "We are very proud of what we have achieved but at the same time, we also have to look at where we have come from. That is when we will realize the unbelievable strides the nation has made." He said, "2014 se ab tak main anubhav kar raha hun ki sawa sau crore deshwasi sirf sarkaar banakar ruke nahi, woh desh banane mein jutte hue hain (I have noticed how 1.25 billion people did not stop after forming the government, they got busy building the country)."
The focus of the PM's speech was on how the country was changing; from tractor-manufacturing, mobile manufacturing to setting up new IIMs, IITs and AIIMS. Tier II and Tier III cities have seen a spate of startups and youths are focusing on self-reliance by way of startups. Touching upon the recent positive developments, Modi said, "We are celebrating the day when our daughters have brought us laurels (Navy personnel circumnavigating the globe on INSV Tarini)…the Monsoon session of Parliament was about social justice." He was referring to the six women officers of the Navy who circumnavigated the globe on INSV Tarini. At the same time, he said, many parts of the nation have been severely hit by floods. "My thoughts are with the families of those who lost their lives in these floods, in various parts of India," he said.
Modi said our all-inclusive Constitution has come with some responsibilities; to fulfil our dreams, everyone has to get equal opportunity. "The Constitution given to us by Dr. Babasaheb Ambedkar has spoken about justice for all. We have to ensure social justice for all and create an India that is developing rapidly," he said.
Listing out his Government's achievements, Modi said, "Had we continued at the same pace at which toilets were being constructed in 2013, the pace at which electrification was happening in 2013, then it would have taken us decades to complete." He said the demand for higher MSP had pending for years "but our Government made it possible". "Humari desh ki sena kahin par bhi prakritik aapda ho pahunch jati hai…wahi sena jab sankalp karke chal padhti hai toh surgical strike karke dushmano ke daant khatte kar aati hai," he said. The OROP demand was also pending for decades. "Our Army personnel had faith in us and we were able to take a decision on OROP."
Pointing out how India has emerged as the sixth most robust economy of the world, Modi said that from being seen as among the fragile five, the nation is now the land of 'reform, perform and transform'. We are all set for record economic growth. "India's voice is being heard effectively at the world stage and we are integral parts of forums whose doors were earlier closed for us." Referring to the successful launch of Mangalyaan, Modi said, "In the year 2022 or if possible before, India will unfurl the Tricolour in space."
Invoking Mahatma Gandhi, something he did more than once during his address, Modi said, "Mahatma Gandhi led the Satyagrahis to freedom. Today, the Swachhagrahis have to ensure a Swachh Bharat." He said it was time the poor had access to affordable healthcare and for that, "Pradhan Mantri Jan Arogya Abhiyaan will be launched on September 25 this year." The initiatives will impact more than 50 crore people.
Probably addressing the Opposition's allegation that the Centre neglects women, Modi said for the first time there were three women judges in the Supreme Court and the current Cabinet also perhaps has the best representation of women. Announcing a "gift" for women, he said aspiring young women will have the same opportunity as their male counterparts through permanent commissioning.
Touching upon the recent spate of rape cases in the country, the PM said, "Recently in Madhya Pradesh, a rapist was hanged by fast track court. We should spread this news and make people aware. Rule of law is supreme, no one can take law in their hands." Likewise, he said, his Government will ensure the practice of instant triple talaq was abolished. "Hum goli aur gaali ke raaste par nahi par gale laga ke aage badhna chahte hain," he said, before signing off on a positive note with a poem.