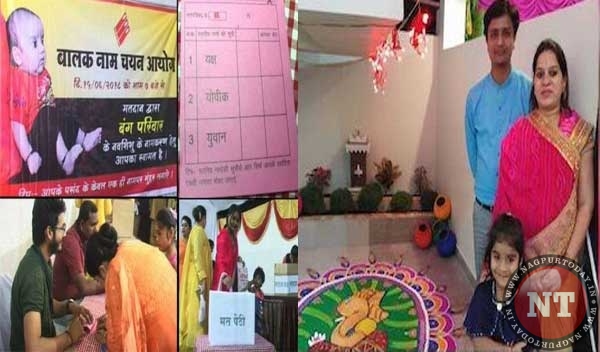 Nagpur: There were "election banners" and a "ballot box" too, and when all the votes were counted, a couple in Maharashtra got the name for their baby boy. Mithun and Mansi Bang of Gondiya district used this novel way to decide the name for their baby boy, born on April 5, by holding an "election" on June 15 with family members, friends and relatives as voters.
Three names were suggested by family members and relatives and the Bangs decided to use a "ballot paper" containing these names.Incidentally, among those present at the event was former MP Nana Patole, whose resignation from Lok Sabha necessitated a bypoll in Gondiya on May 28.
The "election" was conducted using the banner of "Balak Naam Chayan Aayog", whose logo bore an uncanny resemblance to that of the Election Commission of India.The Bang couple, from Deori taluka in Gondiya district, was in a fix over naming the child as three names were suggested by members in their joint family.
Mithun Bang, 34, a garment businessman, told sources that of the suggested names Yaksh, Yuvan and Yauwik, one name had to be finalised.
"Friends and relatives were taken into confidence for finalising the name through the "ballot box" and we invited Patole, along with the local BJP MLA and a former MLA for the event," Bang said.
On June 15, the "voters" were invited and the "ballot paper" contained the three names. Of the 192 votes polled, the name Yuvan got the maximum 92 votes, after which the baby was named Yuvan.
Bang said when his first offspring, a girl, was born five years ago, she was named Bhumi. Asked if a similar "polling" was conducted then, he said, "there was a death in the family and we did not conduct any ceremony."