Littered footpaths, filth everywhere; Citizens in despair

Nagpur Today: A notice on the wall adjoining the footpath says that the footpath is for walking and not for parking two-wheelers of vehicles. However, the footpath is either broken or strewn with boulders and construction material, in such a case, where are the pedestrians supposed to walk?
Such is the maintenance of our roads and footpaths by the local civic body that the pedestrians are forced to come onto the road.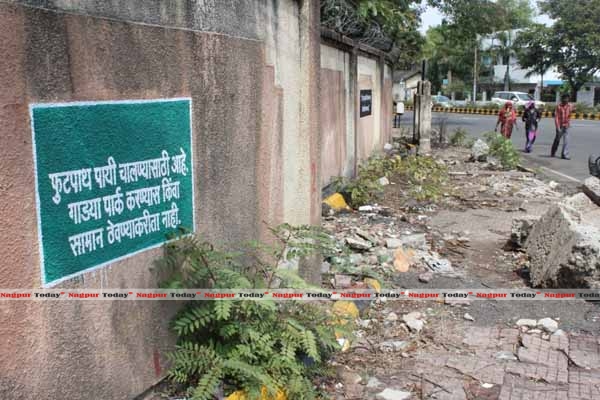 Lakhs of rupees are spent in the construction and laying of the inter-lock or tiles on the footpath, however, this kind of shop-shoddy work by the civic authorities speak loudly of inefficiency and irresponsibility of the authorities who fail to check the work done.
The amount spent by NMC is astronomical for the construction of Integrated Road Development Project (IRDP) but the shop-shoddy work done is evident at many places. The road dividers are broken and condition of footpaths is pathetic and there are pot hole big enough to break the spring or shock-ups of any vehicle, yet the civic authorities are totally blind to all these problems. Who is to be blamed for these problems faced by the denizens.