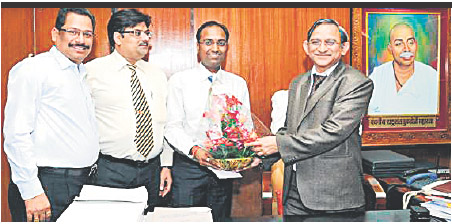 Nagpur News : ICAI conducts examination for CA-IPCC and CA-FINAL every year twice (in May and Nov) on all India basis. Dates of the same are announced 3 month in advance so that students can very well accommodate with their other examinations. This time pursuant to rescheduling of University exams, 2 papers one of BCom Part-I and another of BCCA – Part I are clashing with CA-IPCC exam. Where in same dates and same timings are to be faced by CA students appearing in both the exams. ICAI Nagpur branch delegation led by chairman CA Swapnil Agrawal met RTM Nagpur University vice-chancellor Dr VS Sapkal for the said issue and requested him to reschedule the said two papers in the benefit of the students at large.
CA Swapnil Agrawal informed that Information Technology-1 paper of BCCA Part–I scheduled on May 3 is over lapping with the Accounting I paper of IPCC. Similarly the compulsory Language Paper of BCom part I is overlapping with the Advanced Accounting paper of IPCC on May 2013. He requested the vice chancellor to reschedule the time table of the university exams for those 2 dates, so that the students can appear in both the papers. Regional council member CA Julfesh Shah also addressed the issue and informed that even the exam timings are the same for both the examinations ie 2 to 5 pm. This will result in skipping any one of the examination by the students which is not good. He also urged the vice chancellor to reschedule the said papers. Vice chancellor of the University Dr VS Sapkal briefed the delegation about various initiatives taken up by the university especially in the field of research and development, information technology, soft skill development, communication and personality grooming for students. He appreciated the working of Nagpur Branch of ICAI and said that he is very happy to note that the branch is organising wonderful programmes for the benefit of the students at large. He assured the best possible help from Nagpur University and extended all support for the betterment of the student fraternity. He also assured to make best possible effort to reschedule the examination for the benefit of the students.
Managing committee member CA Suren Duragkar applauded the support extended by vice chancellor and also discussed various issues of mutual benefit. CA Suren Duragkar, CA Julfesh Shah, CA Swapnil Agrawal with vice chancellor Dr VS Sapkal during their meeting to discsuss the examination timetable.