ICAI Nagpur conributes to rebuild kerala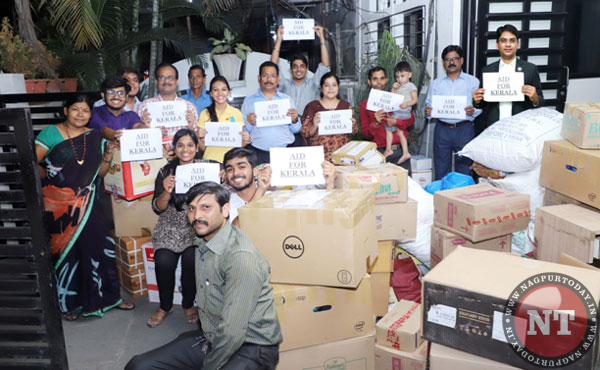 Nagpur Branch of WIRC of ICAI AND Nagpur Branch of Western India Chartered Accountants Student Association (WICASA) in wake of the devastating floods in Kerala undertook a Flood Relief Material collection drive. The Institute of Chartered Accountants was termed as "Partners in Nation Building" by Hon'ble President of India Late Dr. APJ Abdul Kalam and the Institute has been continuously working towards the betterment of society.
The Nagpur Branch therefore undertook a drive to collect relief material which would be transported to Kerala for the affected persons of one of the biggest natural calamity seen by the country in the recent past.
The drive which was undertook on 22-23-24th August has seen receipt of contributions from various persons who came forward voluntarily to donate daily necessities for the people of Kerala.
CA. Umang V Agrawal, Chairman of Nagpur Branch, on this occasion shared his concerns about the current situation in Kerala and emphasized that entire country should come forward in rebuilding the Kerala which is termed as Gods' own Country. He shared his happiness to see huge contributions received from members, students and general public.
He further highlighted that Chartered Accountants are not only responsible for keeping the Financial Health of their clients stable but also have an added responsibility to be role models in ensuring in promoting brotherhood and community building amongst the citizens of the country. He was happy to see contributions being received from the adjoining districts of Wardha, Chandrapur, Gondia and Seoni. He further informed the members present that The ICAI has created a special fund in the name of 'ICAI Kerala Relief Fund' for receiving contributions from the 280000 Chartered Accountant Members and over 800000 Students from all over country.
He was pleased to share that Western India Regional Council has pledged to donate Rs. 5,00,000/- to this fund from their treasury. He invited the members of profession to contribute to this fund to rebuild the glory Kerala has had for years. He thanked over 190 donors who have come forward in this initiative of ICAI.
The Institute in this drive have collected Essential Food Items like Rice, Pulses, Sugar, ready to eat items, Pots, Pans, Utensils, Clothes, Basic set of medicines, Toiletries, mosquito repellants, sleeping mats, water purifying tablets, sleeping mats, footwear etc.
The drive led to collection of one full truck load of material which has been handed over to Shri P Jayakrishnan, Chartered Accountant, who has taken the responsibility to transport the same to the District Collector of Thrissur, Kerala. The items were sent on 25th August, Thiruvonam Day, one of the most auspicious day of the Onam festival. It is important to note that all the supplied collected were brand new and in unused condition.
CA. Suren Duragkar, Vice Chairman & CA. Sanjay Agawal, Mr. Vinod Karale, Branch Incharge, Staff of ICAI were also present while handing over the material. The entire drive was coordinated with by the students of WICASA Ms. Khyatee Gattani, Ms. Apeksha Gundecha, Mst. Udit Choithani, Mst. Yogesh Advani, Ms. Trishika Sahu, Mst. Rikshit Narang and members of Dr. Shrikant Jichkar Foundation led by Ms. Maitree Jichkar of Zero Gravity.