Humility, Deep Thinking, Brief in Expressing is the Mantra of communication: Anand Mahindra

Nagpur Today.
Chairman & Managing Director of Mahindra & Mahindra Ltd, Anand Mahindra while addressing the students who graduated in Business Management, advised students to practice Humility, Brevity and Self Awareness to lead a effective career. Unless you are humble, you stop listening to others, if you stop listening then you are not learning which is bad for effective communication. Anand Mahindra was speaking at the 9th Convocation ceremony of Institute of Management Technology, (IMT) Nagpur's 2012-14 batch on March 3, 2014.
He further added it is super hard to be heard, brevity helps you to be heard. The Mantra of effective communication is to 'Think Deeply and Express Briefly'. He specifically mentioned that one should not have just one single role model, instead a person should Analyse one's failures and successes.  One should never forget the role played by various people in one's life.  Brands are called brands because they have unique identity he added.
Union Minister for Urban Development and Parliamentary Affairs and Chairman of IMT, Kamal Nath in his message to the Convocating students said "Studying should be  a continuous process, I encourage all Convocants to step  into the professional world with commitment towards ensuring inclusive growth and  good governance. Henceforth, you will be engaging in building economic wealth for the country. Use your ability to innovate. You have to your own judge and guide and I know everything attitude should be avoided.
Director of IMT Nagpur Dr. Ranjit Goswami while congratulating the students, said that over the last two  years, all the faculty members of IMT Nagpur facilitated your transformation process. On the behalf of all  faculty colleagues,  he thanked them for that opportunity as it was great experience to be able to influence young minds.
Shreya Jalan got Gold medal for highest CGPA across all streams of PGDM and Sunil Gupta received silver Medal for highest CGPA across all streams of PGDM.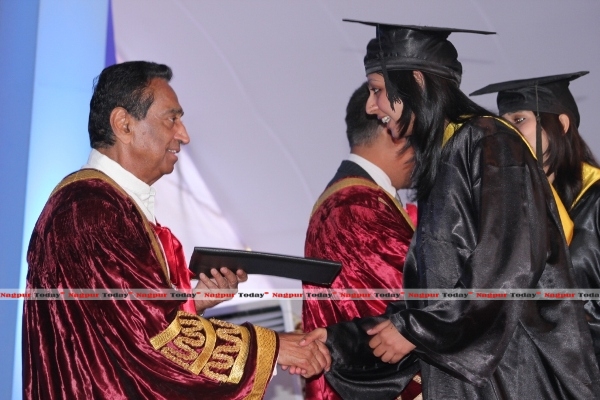 PICS BY: Vinay Thorat