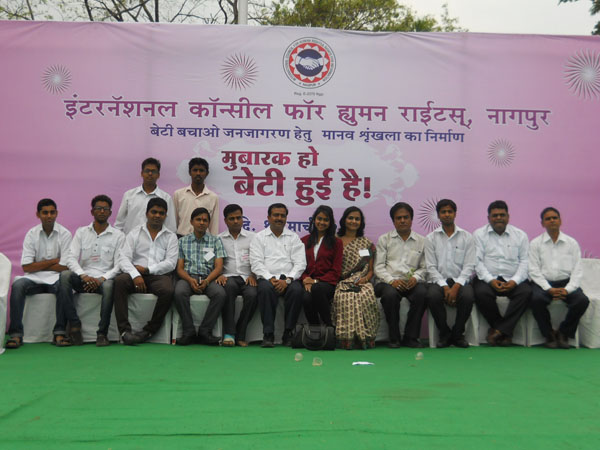 Nagpur News.
Mubarak Ho Beti Huyi Hai – a unique campaign to raise concern against the women atrocities and female foeticide – formed a human chain from Deekshabhumi square to Laxmi Nagar road in Nagpur to affirm the issue. Nagpur District Guardian Minister inaugurated the initiative which mainly includes picture presentation against female foeticide and message oriented placards.
The programme was presided over by the President of Nagpur Shramik Tilak Patrakar Bhawan Trust Pradeep Maitra.
Moghe had all praise for such a noble effort to propagate awareness among the people to cheer on every girl child's birth. The initiative has been moved forward by an organization named International Council for Human Rise. He also appealed to conduct similar programmes in other states of the country.
Those present on the occasion include the organization's president Arun Mukherjee, Dr RP Singh, RTO Officer HS Gadsingh, corporator Pragati Patil, IMA President Dr. Chandak, Dr. Sangeeta Kote, Nanabhau Samarth, Dr Chandrashekar Duble and others.
NCP's city vice-president Vivek Medhi presented the programme on stage.