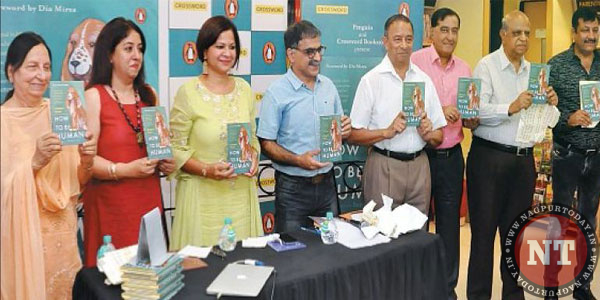 How To Be Human, Life lessons from Buddy Hirani. Manjeet Hirani in conversation with Sanjay Arora, Anju Hirani Kish and Vijay Phansikar.
Manjeet Hirani's debut book 'How To Be Human, Life Lessons from Buddy Hirani' was unveiled at the Crossword bookstore, Nagpur on the 31st of March' 18 . The book was launched by Aamir Khan in Mumbai in the first week of March.
Meet the multi faceted Manjeet Hirani a senior commander and trainer with Air India. She is a sincere fitness enthusiast, an avid traveller with an adventurous streak and loves to be on the move. She is also an influencer and a speaker across various platforms. She blogs at manjeethirani.com. And not to miss out on a small detail she also happens to be ace Bollywood director Raju Hirani's wife.
Manjeet herself confessed that she was not much of a reader when she married Raju Hirani but eventually as everyone in her matrimonial home was an avid reader she picked up reading too. As her husband worked late hours she spent the time that she was not flying, reading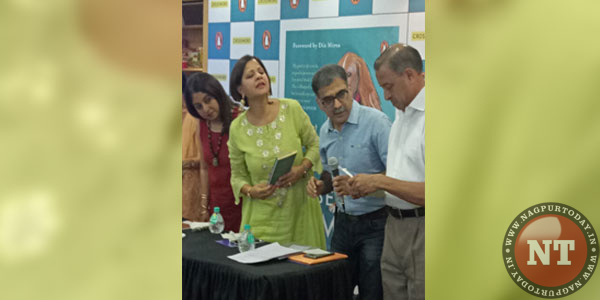 Manjeet Hirani has recently published her first book How to be Human, Life Lessons from Buddy Hirani. Buddy Hirani is an important and most loved member of the Hirani clan, their pet dog. Manjeet Hirani was petrified of dogs and never had a pet as a child. In fact by her own admission she would never visit anyone's house if she knew that they had a dog and if she had to, she would ensure that the dog was tied or nowhere in sight. Buddy was a gift from her husband, Raju Hirani, to their son Vir. Buddy is the same pup that Anushka Sharma holds for a TV show in the movie PK. Manjeet welcomed Buddy, a baby then, and got involved into all his activities as Vir who had initially agreed to take the responsibility only played with the pup. Waching Buddy grow she started making observations and drawing parallels between his life and ours.
Through Buddy's life she speaks about each aspect of our life. The first chapter is titled Territorial. Manjeet speaks about her experience when she took Buddy for a walk for the very first time. She and Buddy were surrounded by street dogs. She had to seek help from passersby and had to be escorted home. The next day she took a different route and was again chased by the street dogs. This made her think that right from the kitchen to the debates in Parliament everyone is fighting over territories. She says that being considered a superior race we can rise above the issues of territorial and ownership and resolve the issues.
She deals with discrimination in one chapter. She tells us how a girl child is discriminated against. Manjeet says that she belonged to an orthodox family and was betrothed to a distant cousin at birth. After her father's death her mother supported her decision to pursue higher education and later train as an air hostess and later as a pilot. There was no discrimination against her as a girl child. She did face discrimination at her workplace as there were very few women pilots. She further explains that we humans discriminate on the basis of race, colour and sex but pets love those who love them. Buddy taught her an important lesson that in order to get love you have to first give love.
Through the other chapters Manjeet speaks about how we humans can learn from the pets. They go through similar experiences but react to the situations in a different and a better manner. She speaks about Buddy's mindfulness and intelligence from the manner in which he learns from his own mistakes. In a chapter titled Astrology she says that animals have a premonition to natural calamities but yet are unmindful of the same and do not fret about it. If they can why can't we.
She even speaks on death something feared by only and all humans. She says that Buddy lives in the moment and believes in the power of Now. She says we should draw inspiration from this and not ruin our present worrying about death.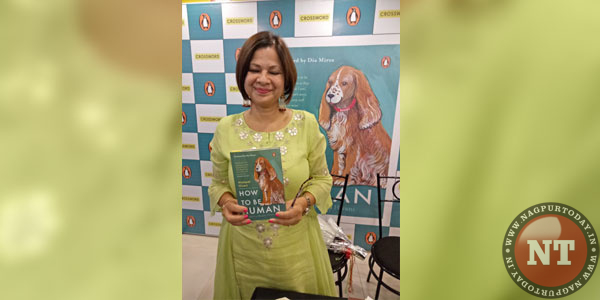 On a lighter note when asked that all the episodes and anecdotes in the book revolved around her son Vir, Buddy and herself and Raju Hirani not getting any footage, she laughed and replied "Raju is nowhere there, I spend most of my time with Vir and Buddy and that's how I became a philosopher." Manjeet's mother-in-law in a video message said that she was so proud of Manjeet for being an independent woman and praised her quest to keep on learning and achieving new goals.
How To Be Human, Life Lessons from Buddy Hirani is a wonderful book that sums up the philosophy of life and tells us that we humans can learn to be good humans beings from our pets.
By Monica Dixit