Nagpur: HotelKey is a Corporate offering cloud based Hotel Management System built specially to manage hotels and motels. This app has been so designed to help both Owner and Hotel management staff plus customers.A state of the art Front desk iPad app provides core property management functions, real time reporting and useful analytics.
Owner and Manager Apps on smartphones provide access to occupancy, revenue and other key performance indicators. The Housekeeping and Maintenance apps allow staff to manage daily maintenance, repair, and service functions.
HotelKey mobile booking application, self check-in and drive to room are innovations designed for customers which will revolutionize the hotel industry.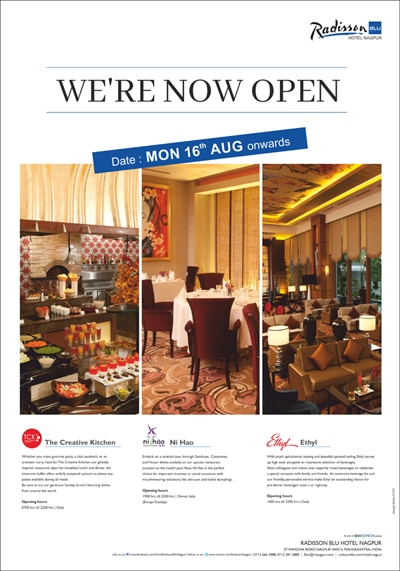 This company which already has a presence in three countries – USA, Kosovo and India – had already opened a back end office in Nagpur.
This 12th November, they have inaugurated brand new premises on Nag Road where they propose to expand operations and add key functions like Development, Quality testing, Analysis, Support, Implementation and at the next stage, product marketing – for Indian markets – also.
This move by HotelKey management has been a God sent for many professionally qualified Nagpurians who have been given an opportunity to move back to their families and their home town without compromising their 'take home' in the least. On the contrary, they are all moving back with at least a 20% enhancement of their emoluments.
Bhumika Shinkhede is one such fortunate person. She is a graduate of YCC Engg college Nagpur who had to shift to Pune two years ago when she got a job in Infosys. She worked briefly in Mysore and Banglore too before moving to Pune. Permanently, it seemed, since it was a great job and she was learning a lot. She was Functional consultant for client Harley Davidson. Her family was both happy for her and sad that she was not coming back.
But now they are overjoyed that this job with HotelKey has brought their only child back home to them.
"This job is more paying and very exciting too. Plus I get to live at home with my parents so they are not constantly worried about me as they used to be earlier when I was in Pune. It is like having your cake and eating it too!" says the pretty girl.
Sneha Agrawal is another Akola based Engineering graduate – she studied in Ramdeo Baba college – who HotelKey brought back close to home. After graduation she had worked in Cybage Pune for two years before ill health of parents forced her to quit and move back to Akola for a while. In her free time she trained in OCP as Database Administrator and was musing future course of action when she learnt about HotelKey through an article in Linked in. She sent in her application and was overjoyed when she got selected.

"With this opportunity I get the best of both worlds without having to move too far away from my family in Akola. I can visit them on weekends , but the thing I am happiest about is getting to go home on festivals! It was such a hassle planning to travel from Pune for Diwali, New Year etc. Most times I was forced to miss them."
There are approximately 30 such youngsters working in the Nagpur office now. Ritesh Patwardhan, the senior most guy and the office in charge of Nagpur was working in Pune too.The second in command is Akash Rayte, also a Nagpur guy.
They are on a hiring spree and are looking to increase their strength to 55 by year end. By 2017, they plan to expand to 100 – 150 based on the response they get world wide and from within India too. Right now, it is looking very positive and the response has been tremendous.
They have been hired by the biggest Economy Motel chain in USA who are so confident of their product that they have offered funding too. (The name of the group is under wraps pending a formal announcement from their end).
"Why Nagpur?" We ask Aditya Thyagarajan , the Co Founder and President of the Company.
"Because I am from Nagpur" he replies simply. (Though Aditya's parents are now settled in Banglore the family originally belongs to Nagpur and Aditya was born in Amraoti and lived in Nagpur in his initial growing up years. He did his Engineering from Banglore where he was also an ace Cricketer playing ultimately for the state of Karnataka in Ranjeet Trophy matches. He moved to USA to do his MS and played cricket there too – becoming Captain of USA's first cricket team- The glamorous Hollywood Cricket team!)

Aditya, whose ties with Nagpur have strengthened with marriage to Renuka, Senior Congress leader and ex Union Minister Vilas Muttemwar's only daughter, says he was very impressed with the caliber of Engineering graduates from Nagpur.
So when he decided to set up HotelKey in USA with co founder and CEO Fareed Ahmed, India, and Nagpur were his first choice for setting up the back end service office.
In fact last year in December 2015, they formally launched HotelKey from Nagpur only.
The message I want to give the city youth is " Don't go to Pune or Mumbai for work. Stay in Nagpur, have a great career that will have you travelling the world!" Says Aditya.