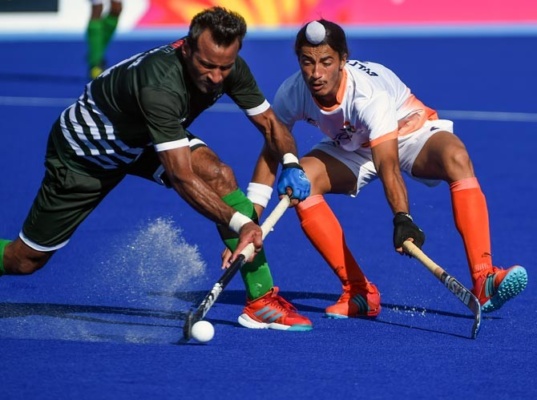 India frittered away the advantage of a two-goal lead and were held 2-2 by Pakistan in the men's hockey Pool B match at the Commonwealth Games, in Gold Coast, on Saturday.
India led Pakistan 2-0 at the end of the second quarter, but Pakistan staged a strong recovery in the next two to take a point from the match.
It was touted as the blockbuster clash of the preliminary stage and the turnout, at least, lived up to the hype. The diaspora of both the countries was out in good numbers but adding to the fervour were the Australian fans, who showed up to just soak in the excitement of an Indo-Pak clash.
Not to forget the beat of the dhol, that usually amplifies the sloganeering, was also there adding to the fervour.
India went ahead in the 13th minute through Dilpreet Singh, who tapped home a crisp cross from S V Sunil.
They could have increased the lead just before the end of the first quarter, but Rupinder Pal Singh's shot, with 40 seconds left, went over the crossbar.
A goal up at the end of the first quarter, Harmanpreet Singh doubled the lead, scoring from a penalty-corner with a low drive in the 19th minute.
Two goals down at the end of the second quarter, Pakistan started aggressively in the third and were rewarded when Mohammad Irfan Jr tapped the ball home after goalkeeper P Sreejesh failed to clear a shot from Rizwan.
Pakistan could have drawn level if not taken the lead immediately, but Sreejesh brought off three magnificent saves in a couple of minutes.
India survived some anxious moments thereafter as Pakistan pressed for the equalizer, which came seconds from the hooter from a penalty-corner.