Heritage Conservation Committee holds meeting, discusses vital issues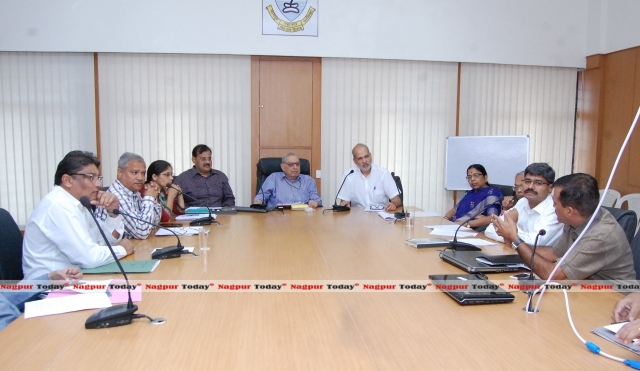 Nagpur: The Heritage Conservation Committee, set up in accordance with Maharashtra Government Urban Development Department's decision dated September 6, 2014, for conserving heritage structures/premises, held its meeting in the hall of new administrative building of Nagpur Municipal Corporation on Friday. The meeting was presided over by its Chairman Arun Patankar (retired chartered accountant).
The meeting was attended by Committee Member Additional Municipal Commissioner Pramod Bhusari, NIT Executive Engineer S G Paseband, Structural Engineer P S Patankar, RTMNU History Department's Reader Shubha Johri, Curator of Nagpur Museum Dr Chirag Sontakke and other prominent officials.
In accordance with the decision arrived at last meeting, eminent structural architect and urban designer Ashok Mokha was nominated to the Committee as its Member. Similarly, the District Information Officer was also included in the committee.
In the meeting, the Executive Engineer, PWD No. 1 was directed to present the computer generated 3-D view drawing of raising of existing security wall in the High Court premises. The meeting also discussed erection of Chhatrapati Shivaji Maharaj statue middle of Gandhisagar Lake. The development Gandhisagar Lake on the lines of Gujarat was also discussed. The place of statue installation will be decided after appointment of consultant and completion of other necessary formalities. All the facts would be placed before the Heritage Conservation Committee, informed NMC. The meeting also discussed transfer of historic Kasturchand Park's 239.90 sq mtr land for the proposed Nagpur Metro Rail project. Since the place is included in the Heritage Conservation List, the District Collector was directed to present a map denoting land to be transferred and its distance from the heritage spot.
The RTMNU Engineer presented before the Committee the map of the proposed new Administrative Building. The Sub-Committee will pay a visit to the site and submit its report before the Heritage Conservation Committee in the next meeting.
The Heritage Committee expressed its displeasure over unnecessary changes being made in the heritage structures such as GPO, High Court building, Divisional Commissioner's office without seeking permission from it.
The next meeting of Heritage Conservation Committee will be held in the third week of November.