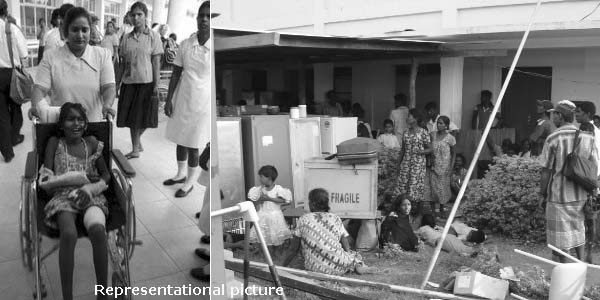 Nagpur News: In the ultimate height of evil or barbaric or demonic  actions, a very disturbing development has come to the fore in Nagpur city. The Government Medical College and Hospital (GMCH) has become a hub for criminals to unleash their cruelest designs against the patients and their near and dear ones. Thousands of patients and their relatives visit GMCH, not only from Nagpur but from several cities and towns of neighbouring Madhya Pradesh, Chhattisgarh, and Andhra Pradesh for affordable and better treatment. However, for the criminals, they are a sitting duck and with tricky acts rob the already anguished patients and their relatives.
According to police, one Ramchandra Dabrase, a resident of Morshi Dighori in Amravati, had come to GMCH for receiving the birth certificate of his daughter Swarna (6) as his wife had delivered the baby at this very GMCH. He was walking towards Medical Officer's chamber in the premises. Suddenly he accosted by the goons one Ganesh Vinod Shinde (41), a resident of Ashok Square slums and Golu Dilip Revadiya (18), a resident of Plot No. 14, Untkhana, Great Nag Road,and their two other accomplices. They asked him whether his has found a mobile phone. When Ramchandra said no, the goons started hitting him and snatched Rs 70 from his pocket and fled the spot.
The dazed Ramchandra reached the Ajni Police Station and lodged a complaint in this regard. In turn, the police registered an offence against the accused and launched a search for them. However, to the bewilderment of police, Ganesh and Golu were found at the very spot ready for committing the same type of crime. Ramchandra who was with police identified the accused thus helping the police arrested them on the spot. Now, the police are searching other two accused.
However, the case may look a simple one as far as the amount is concerned. But it is certainly an iceberg. Several patients and their relatives fall prey to the tricks of the goons but go unreported as many of the victims avoid, of course, reluctantly, lodge complaints with police. The patients and their kith and kin, already dealing with serious medical situation and facing difficulties on several fronts, give a go to the robbing by the goons and turn backs to police. There were even reports wherein the goons cheated the outside persons in the name of transporting body of their patient who had died in the course of treatment. The goons deserted the relatives midway by way of threats and were forced to get down at a distance far away from their destination.
There are umpteen examples of outstation, and even from Nagpur, persons were looted and are still being looted by the criminals. Police must act and provide safety the patients and their relatives.