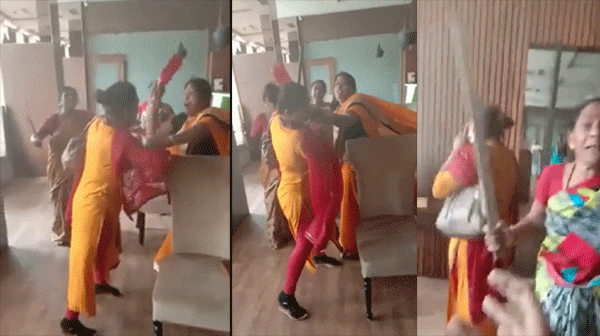 Note: The version and contents in story are purely based on video and audio clips. Nagpur Today does not endorse authenticity of the claim made in video and audio clip.
---
Nagpur: A serious allegation of sexual harrasment, extortion and physical assault has left a big question mark on Panchpaoli police who have been sitting the duck, despite being approached by the victim number of times. After the intervention of Commissioner of Police, though, the cops have registered an FIR but not against the people whom she had accused.
The victim Vijeta Khobragade, 38, was running a restaurant named Veggie Green at Jaswant Tuli mall on Kamptee road. She had entered into partnership with Vinay Tukaram Deshmukh, resident of Telipura, Itwari.
It was after Deshmukh got off the business by mutually ending partnership with Vijeta, she was put to harsh mental and physical agony. She was also forced out of restaurant and beaten by female guards while being verbally abused. A video of the incident has also been doing the rounds on social media. However Panchpaoli police chose to keep mum in the incident.
In the latest video submitted to Nagpur Today, Vijeta has alleged sexual harassment and physical assault against her former partner Vinay Tukaram Deshmukh and also against the Mall owner Mohabbat Singh Tuli along with senior NCP leader Sohail Patel.
She also alleged that Tuli had taken Rs 5 lakh from her and behaved with her objectionably.
Watch the video here…
Vijeta has also alleged that all the three – Deshmukh, Tuli and Patel had demanded sexual favours from her and when she denied she was warned of dire consequences.
She said that her former restro partner Deshmukh had previously insisted her to shift her residence beside the restaurant and he also tried to get intimate with her on the pretext of getting married. "Deshmukh was already married and he would say that he would marry me and that he would divorce his wife. And when I discarded his gestures, he kept on pestering for the relationship. Later when I approached Mohabbat Singh Tuli who too offered to help against making him 'happy'. Later I got a call from NCP leader Sohail Patel who pretended to help me out, and said that I too have to solve his problem. Sohail said that his wife was not keeping well for the last few months and that he was not into physical relation with his wife. He also hinted that I would need to 'help' him out."
Vijeta Khobragade has also shared a call recording in which she had the said conversation with Sohail Patel.
Listen to the full audio transcript between Vijeta and Patel here…
Nagpur Today tried to contact Patel for his side but several attempts to contact him failed as his numbers were either switched off or out of network coverage.
Meanwhile, Tuli could not be contacted for his official statement but he was quoted by one of the websites as refuting the charges. As per the website, Tuli has said that Vijeta was deliberately trying to implicate him in false case.