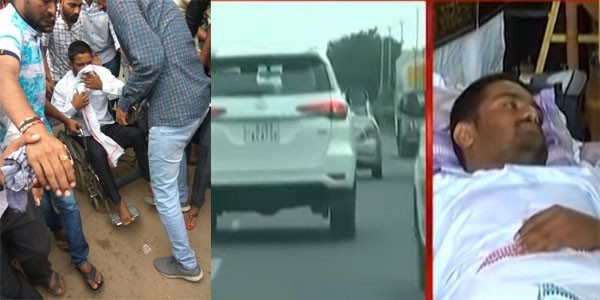 Patidar agitation head Hardik Patel, who is on an indefinite fast since 25 August, has been hospitalised after his health deteriorated. Last night he gave up taking water to press for the demand for reservations for his community and loan waiver for farmers.
The Gujarat government remains unmoved despite medical reports about Patel's worsening health.Patel's Patidar Anamat Andolan Samiti (PAAS) had served the Gujarat Government a 24-hour ultimatum to initiate talks with him over their demands.
The government maintained that the agitation was sponsored by the Congress.
PAAS spokesman Manoj Panara said the ultimatum expired at 7 pm and the 25-year-old Patel decided to stop consuming water.
Earlier too, he had given up drinking water but was persuaded by leaders of the community after seven days of his fast as his health started deteriorating.
Panara said Hardik Patel, who took a stroll in a wheel-chair of the compound of his residence where he is fasting and met some of his supporters in the afternoon, would stop having even a drop of water and the state Government would be responsible for the consequences.
Manoj Panara came up with an allegation, though unsubstantiated, that the PAAS had "definite information" that the state government was "conspiring to kill Hardik" as a warning to all those who dared raised their voice "against the autocratic rule of the BJP".He said the government hospital doctors, who were appointed to monitor Hardik Patel's health, had started claiming that his kidney, heart and several other organs had been "infected" but the private medical practitioners had refuted the claim.