Gunday : Bollywood Masala Fry

Director: Ali Abbas Zafar
Music composed by: Sohail Sen
Production company: Yash Raj Films
Cast: Priyanka Chopra, Ranveer Singh,Arjun Kapoor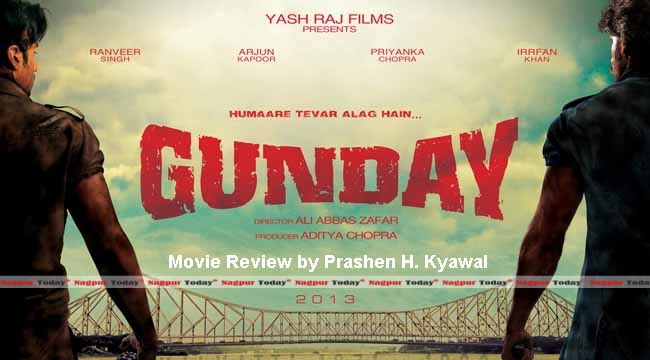 In search of angry young man or the typical macho hero, Bollywood is exploring lawless belt of the country (UP, Bihar) for stories of Police officers (Dubangg, Rowdy Rathor), Thief and Gangsters (Rowdy Rathor, Bullet Raja, Boss) and travelling back in time (Once upon a Time in Mumbai, Shootout at Wadala). While doing so they are educating audience on illegal drug trade, smuggling, gun trade, etc. Another illegal trade was brought to forth by Anurag Kashyap in Gangs of Wasseypur though it can not be called a typical Bollywood masala film. Ali Abbas Zafar seems to be inspired from it and used this illegal coal business backdrop and back in time retro formula while writing this week's release "Gunday"
Gunday is a story of 2 kids, Bikram (master Darshan Gujar) and Bala (master Jayesh Kardak), who were orphaned during Bangladesh war. They face a lot of atrocities in relief camp there. So they run to Culcutta hiding in a coal wagon or railway. After trying to make an honest living by working hard at small restaurants, they're forced to fight for their rights and snatch it. They do it by stealing coal from railway wagons. In few years, as they grow up, Bikram (Ranveer Singh) and Bala (Arjun Kapoor) build their empire by having presence in all business through their muscle power and become kings of Calcutta.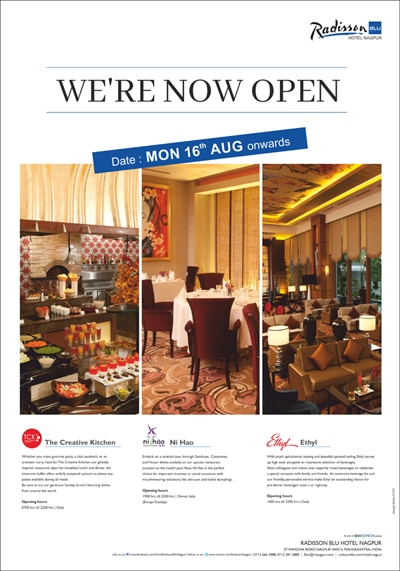 A big twist in their life comes after government bestows ACP Satyajit Sarkar (Irrfan Khan), the responsibility of cleaning Calcutta from the menace of Bikram and Bala. He warns them about being under his vigilance always and advises them to refrain from any illegal activities. Second twist, but somewhat beautiful, comes in the life of these two goons in the name of Nandita (Priyanka Chopra), a cabaret dancer. They both fall in love with her and agree to try and woo her one by one alternatively. They agree that they will be ok with whoever Nandita chooses as her lover. What happens next is the story which has more twists and turns topped with lots of Drama and action.
Ali Abbas Zafar is credited for Story, Screenplay, Dialogs and Direction. So it is a one man show on the story telling part of the movie. He has used all the formulas and cliches but tried to present them in a gripping manner with a big canvas. He gets us intrigued in the story telling and keeps us hooked by the characterisation and performances he extracted from his lead cast. However, this grip is lost few times throughout the movie and you can find yourself checking your cellphone notifications. Another issue which hurts this movie is lack of a strong villain and interesting peripheral characters. Due to this, you feel like you are watching a 3-4 character movie while the canvas is that of a big budget multi-starrer. This makes us feel suffocated like we are in a coal mine. There are many such loopholes in the screenplay which mars the whole experience. But still, Ali Abbas Zafar makes up for it via stylish presentation and few good dialogs.
Ali Abbas Zafar must be praised for the way he has raised questions over the system which gives birth to such Goons without being preachy. He has 2-3 directors shots in the movie like the flying of pigeon when Bikram and Bala fights, and the empty train at the end, etc. He sure has good potential and we can expect better products from him in future.
Editor Rameshwar S. Bhagat must be applauded for handling so much content effectively. Cinematography by Aseem Mishra gives it the larger than life as well as the retro feel as per the demand of the script. Production Designer Rajat Poddar with Art Director Kailash Sahu has been given free hand by Yash Raj Films and he has done justice the freedom by giving high quality output. However, the dummy train in few scenes is looks DUMMY. And the scene when Arjun Kapoor Blows a warehouse has not come out well.
Costume Design by Subarna Ray Chaudhari also stands out and we can not forget the outfit with red heart shaped mark on it. It adds to the outwardly and raucous behaviour by the illiterate heroes. Stunts by Sham Kaushal are good but could've been better. Music by Sohail Sen is average barring 'Tune maari entriyaan' and will be soon forgotten.
Casting Director Shanoo Sharma again hit bulls eye in casting of this movie. The child actors who played Bikram (master Darshan Gujar) and Bala (master Jayesh Kardak) done a marvelous job. Pankaj Tripathi in a small role of Lateef who gets these kids in the world of crime made an impression. Jameel Khan (as Satyajit Sarkar's colleague) did not get much scope, but Anant Sharma (as Himanshu) makes his presence felt. Again the problem is none of the peripheral characters are explored fully which could've improved this movie a lot.
Highlight of this movie is performances by its lead cast i.e. Ranveer Singh, Arjun Kapoor, Priyanka Chopra and Irrfan Khan. While Ranveer and Priyanka steals the show, Arjun Kapoor equally does good. While Irrfan Khan does is best, he is not backed by the writer properly. Ranveer infuses energy on the screen and Priyanka oozes glamour every time she is there. The chemistry between Ranveer-Arjun, Ranveer-Priyanka, Arjun-Priyanka and between all 3 is outstanding.
Overall, "Gunday" is a good masala movie with good performances and larger than life story telling. It is a clean film and can be watched with family and kids.


Recommendation: The day you watch "Gunday" will be a good day. Do watch it.
Show timing :
Smruti Cinema Nagpur – residency road sadar, nagpur, Nagpur, India
‎12:30‎ – ‎3:30‎ – ‎6:30‎ – ‎9:25pm‎
Pvr Empress City Mall – empress city mall, opposite raman science centre gandhi sagar lake, Nagpur, India
‎3:10‎ – ‎4:10‎ – ‎5:20‎ – ‎6:20‎ – ‎7:20‎ – ‎8:30‎ – ‎9:30‎ – ‎10:30pm‎
Cinemax Eternity Mall – eternity mall, variety square, sitabudi, Nagpur, India
‎10:15am‎ – ‎12:10‎ – ‎1:25‎ – ‎3:20‎ – ‎6:30‎ – ‎7:35‎ – ‎9:40‎ – ‎10:45pm‎
Jaya Shree – near lohapool, cotton market, subhash road, Nagpur, India
‎12:30‎ – ‎3:30‎ – ‎6:30‎ – ‎9:30pm‎
Rajvilas Cinema – nagpur mahal, Nagpur, India
‎12:30‎ – ‎3:30‎ – ‎6:30‎ – ‎9:30pm‎
Panch Sheel – wardha road, Nagpur, India
‎12:30‎ – ‎3:30‎ – ‎6:30‎ – ‎9:30pm‎
Inox Tuli Mall – kamptee road, nagpur, Nagpur, India
‎1:00‎ – ‎2:25‎ – ‎3:10‎ – ‎4:05‎ – ‎6:15‎ – ‎7:10‎ – ‎9:20‎ – ‎10:15pm‎
Inox Poonam Mall – poonam mall, Nagpur, India
‎1:00‎ – ‎3:10‎ – ‎4:05‎ – ‎6:15‎ – ‎7:10‎ – ‎8:30‎ – ‎9:20‎ – ‎10:15pm‎