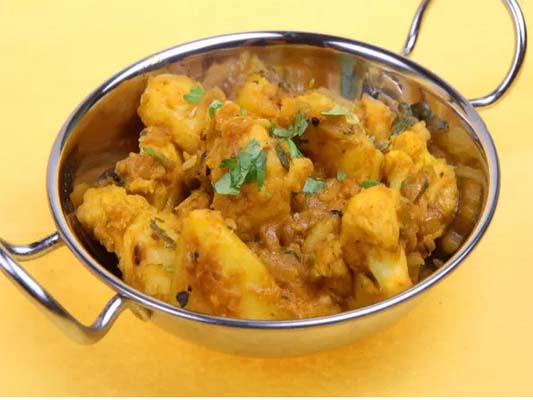 Potatoes, who doesn't love them? It is a versatile vegetable which can be cooked with almost anything. It absorbs most flavours, can be easily cooked with any vegetable and you definitely have to work very hard to make a potato dish taste bad!
You must have experimented with a lot of potato curries. Here is another addition to your list. This aloo subzi is a typical Gujarati recipe. Gujaratis are mostly pure vegetarians. Some of them even avoid onions and garlic in their diet. A typical Gujarati subzi is a mix of sweet, spicy and tangy flavours. In this recipe of Gujarati aloo subzi, the use of yogurt and a unique blend of spices make it an absolute delight for your taste-buds.
So, try out this delicious pure vegetarian recipe of Gujarati aloo subzi and enjoy a vegetarian treat at home.
Serves: 3-4
Preparation time: 15 minutes
Cooking time: 15 minutes
Ingredients
Potatoes- 500gms (small sized, cut into halves)
Ginger paste- 1tsp
Tomato puree- 2tbsp
Yogurt- 2tbsp
Hing (asafoetida)- a pinch
Turmeric powder- 1tsp
Red chilli powder- 2tsp
Cumin powder- 1tsp
Coriander powder- 1tsp
Sugar- ½ tsp
Salt- as per taste
Oil- 1tbsp
Water- ½ cup (warm)
Procedure
Heat oil in a pan. Add hing and sugar. Fry for about a minute on medium flame.
As the sugar caramelizes i.e. becomes brown in colour, add ginger paste and fry for a few seconds.
Now add tomato puree, turmeric powder, red chilli powder, cumin powder, coriander powder and cook for about 2 minutes.
Add the potato pieces and stir fry for 2 minutes on medium flame.
Now add the yogurt and keep stirring continuously till it mixes well.
Cook for another 2 minutes. Then add salt, warm water and cover the pan with a lid.
Reduce the flame to low heat and cook covered for about 10 minutes, stirring regularly.
Once done, remove the lid and check the potatoes with the help of a fork.
Once the potatoes are completely cooked, switch off the flame and serve.
This recipe of Gujarati aloo subzi is an excellent accompaniment to vegetable pulao or rotis
.