Guardian Minister Chandrashekhar Bawankule appeals all Ganesh Mandals of Nagpur

Nagpur: In a meeting conducted today (August 9), State Power Minister and Guardian Minister, Nagpur, Chandrashekhar Bawankule appealed all the Ganesh Mandals and NMC officials to spread large scale social messages during the ten day celebration. He said Ganesh Utsav is widely celebrated in Nagpur and is one the largest social gathering of the city so, it is very important to spread the vital messages in these gatherings.
He appealed the Mandals to spread messages on topics like: Swachh Bharat Mission initiatives, Government schemes, Save Water campaigns, Green Ganesh Utsav celebration, etc on a large scale. He also asked to ensure maximum citizen participation in these schemes and campaigns.
State Power Minister and Guardian Minister, Nagpur Chandrashekhar Bawankule addressed the meeting at Raje Raghuji Nagar Bhavan in Mahal, Nagpur. Mayor Nanda Jichkar, Z.p. president Nisha Sawarkar, MLA Sudhakar Deshmukh, MLA Sudhakar Kohle, MLA Prof. Anil Sole, MLA Krushna Khopde, MLA Dr. Milind Mane, MLA Ashish Deshmukh, MLA Jogendra Kawade, Deputy Mayor Deepraj Pardikar, Opposite Party Leader Tanaji Wanve, NMC Commissioner Virendra Singh, ZP CEO Anoop Yadav, SP (Nagpur Gramin) Rakesh Ola were present in the meeting.
Ganesh Utsav and other public festivals are a great medium for social awareness and inviting large scale public participation. Therefore, it is very important to create public awareness through these festivals. Chandrashekhar Bawankule added, Nagpur has always observed peaceful and very healthy social celebrations as it is a tradition of Nagpurians to celebrate all festivals in social harmony.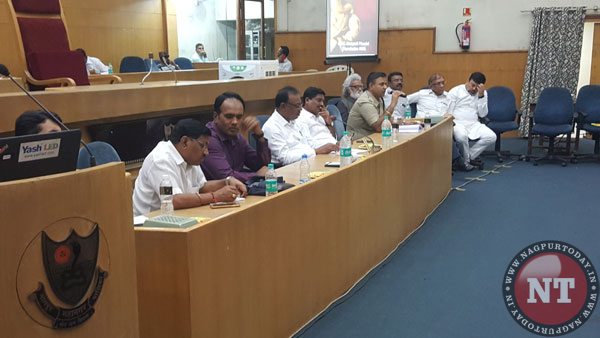 Mayor Nanda Jichkar also appealed Nagpurians to take care of the environment and said that NMC will make all the arrangements to ensure citizens don't face any difficulties during the festival.
She said, "To celebrate a Green Ganesh Utsav we need citizens' support and participation. Only with their cooperation, we can strive to save water and our precious lakes. NMC is setting up artificial lakes and tanks for visarjan. I urge Nagpur citizens to use artificial tanks for visarjan and Mandals to use artificial lakes for larger idols. It is our city and our responsibility to keep it clean. NMC officials will be there for constant support of citizens."