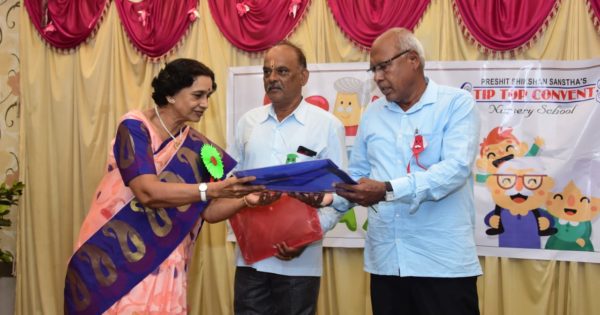 Nagpur: The pre-primary wing of Tip Top Convent recently celebrated Grand Parents Day in an unique way along with students and parents. Grand Parents became students and participated in various events, games, activities that were organised to mark the special Day.
The unique concept of organising Grand Parents day is a brainchild of Director of Tip Top Convent Mrs Preeti Siras, who encouraged staff, kids, parents and Grand Parents to perform such unique celebrations .
Various Games, Rapid fire questions, passing of the parcel , follow the opposite instructions were organised for grandparents followed by a lunch on the occasion. Earlier Grand Parents were felicitated as well as welcomed at the hands of Director Mrs Preeti Siras.
School Principal Mrs Ketaki Siras was also present on the occasion.
Pre-primary staff of Tip Top Convent took special efforts to uphold the programme.
Large number of Nursery students and their parents especially attended and participated in the programme.