Grand finale of Voyage VMSA Narayandasji Chandak memorial Leather ball cricket Tournament on Feb 14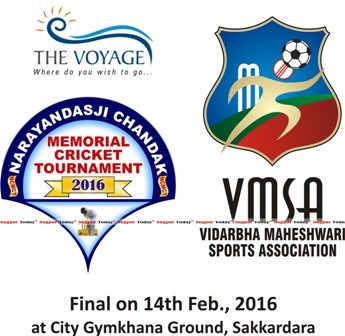 Nagpur: The Voyage VMSA presents Narayandasji Chandak Memorial Leather Ball Cricket Tournament was being held in the city every Sunday from January 10, 2016 and will have their grand finale on February 14, 2016 at City Gymkhana Ground, Sakkardara, Nagpur.
Eight teams will be participating in the tournament:
Marwad Super Kings owned by Basant Kela and Giriraj Jhawar,
Eshan Gold Warriors owned by Mukund Mall and Akash Nabira,
Sunrisers-11 owned by Gaurav Sarda and Pankaj Tapdiya,
Knight Rangers owned by Nikesh Bank and Aditya Pasari,
Lipi Lions owned by Nawal Kabra and Shrivallabh Mall.
K. Bikes owned by Pravin Surjan and Nilesh Gandhi,
Murli Master Blaster owned by Mahesh Maloo and
Dynamic Chargers owned by Prashant Mohta.
So far it has been a great tournament with records shattered and new records made. One could see it all, from complete whitewash, highest totals being scored and even chased down. Finally it will all come down to one last exciting day where the champions will emerge and claim their crown.
The league stages ended on February 7, 2016 with S.K. Bikes Bulls topping the table followed by Murli Master Blasters, Marwad Super Kings and Dynamic Chargers.
The two table toppers battled it out in the Qualifier match to secure their spot in the Finals and it was S.K. Bikes Bulls who won the Qualifier and became the first team to enter the Finals. The most exciting Eliminator match ever was played where Dynamic Chargers, chased down the highest total ever of 182 in 16 overs set by Marwad Super Kings, on the last ball of the match.
With this exhilarating win, Dynamic chargers have entered into the second Qualifiers and will compete against Murli Master Blasters on February 14, 2016 from 8:30 am. The winner of this tussle will play the Finals with S.K. Bikes Bulls from 1:30 pm.
Between the two matches, there is a unique competition between all the eight teams. The teams will participate in the Super Sixes and the classic bowl outs. The teams need to hit the longest six to become the winner in the Super Sixes and the team which is able to strike the stumps maximum number of times will win the bowl outs.
Currently, Parikshit Chandak, Owner and Captain of Knight Rangers is the highest run scorer with 209 runs in 4 matches with an unbelievable average of 104.5 runs!! Prakash Bhaiya, Marwad Super Kings, reigns as the supreme bowler with 13 wickets in 5 matches with one 5-wicket haul. Aditya Rathi, Sunrisers XI, is the best fielder with 7 catches in 4 matches.
Winning Team will be awarded with a cash price of 15000 and a trophy, whereas Runners Up with Rs.11000 and a trophy. Individual Prizes like Man of the Match, Best Batsman, Best Bowler, Best fielder Man Of the series will also be given accordingly.
The organizers expressed their gratitude to all the sponsors namely Bellezza Salon, Dwarka Water Park, Shreejee Services, Dr Anuj Chandak Chandak Dental Clinic for their valuable Support. All VMSA Committee members & Project Director Akshay Bajaj, Rohit Rathi, Sagar Gandhi and Saurabh Nathani worked hard for the success of the tournament.