Collector Dr Kadambari Balkawde herself gives artistic touch to massive Rangoli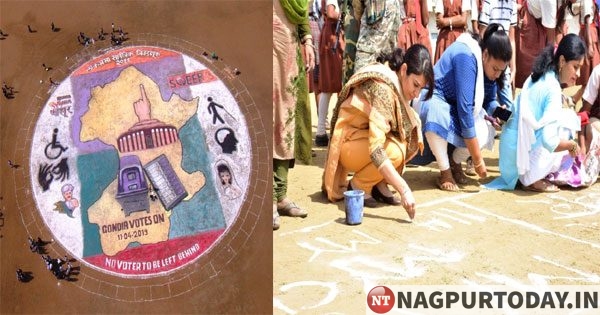 Gondia: Ahead of polling for Lok Sabha elections, a group of artists and students took part in the voter awareness campaign in a colourful way. The artists created a massive rangoli at the local Indira Gandhi Stadium on Monday, April 8. The 16,900 sq ft Rangoli, a concept of District Collector Dr Kadambari Balkawde, depicted various voter awareness messages. Dazzling colours were used to create the massive Rangoli.
The Rangoli showcases map of Gondia district, Indian Parliament, EVM, VVPAT machine, Divyang, woman and farmer voters. To encourage maximum voting by Divyang persons the Rangoli stressed the aspect vibrantly. Around 2338 students from various schools reached the stadium and took part in creating the mega Rangoli for a voter awareness campaign.
The District Collector Dr Kadambari Balkawde herself gave an artistic touch to the Rangoli by taking part in the colourful creation.
The students declared their commitment to exercise their franchise in the Lok Sabha elections. Efforts were being made to ensure that all those who have attained 18 years of age and enrolled in the voters list, cast their votes in the poll.