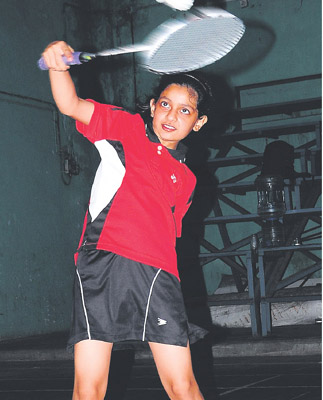 Nagpur News: Top seed Varada Dixit and second seed Bhakti Dahasahasra were shocked by unseeded players in women singles semi-finals on the third day of Goel Ganga District Open Badminton Championship at Subhedar Hall on Friday.
Vaishnavi Bhale created sensation surprising top seed Varada Dixit 21-17, 21-10. Another unseeded player Asawari Albal shocked second seed Bhakti Dahasahasra 26-24,21-15 to enter the final.
In under-10 girls singles section, Aditi Sadhankar and Nikita Joseph set up a title clash. While Aditi defeated Sophia Simon 21-11,21-9; Nikkita Joseph trounced Amulya Lanjewar 21-10,21-9.
Results
Women singles (SF): Asawari Albal bt Bhakti Dahasahasra 26-24,21-15; Vaishnavi Bhale bt Varada Dixit 21-17,21-10.
Under -10 girls singles (SF): Aditi Sadhankar bt Sophia Simon 21-11,21-9; Nikita Joseph bt Amulya Lanjewar 21-10,21-9
U-15 boys singles (PQF): Paras Hazarey bt Parth Thakkar 15-6,15-12; Rohan Gurbani bt Tushar Dhurve 15-7,15-11 Amey Baheti bt Gandhar Newale 15-6,15-8; Gaurav Mithe bt Nihar Rathi 15-7,15-10; Rahul Bawankar bt Hriday Deshmukh 15-12,15-14; Ashwin Gurbani bt Sudhanshu Bure (retired hurt) 8-15,5-8; Saurabh Kerhalkar bt Samarjeet Pande 15-6,15-7; Angad Matharu bt Srinivas Saoji 15-5,15-8.
U-15 girls singles (PQF): Nayan Thakre bt Radha Bapat 15-7,15-7;Malvika Bansod bt Shikha Mundra 15-3,15-6; Deepthi Ramesh bt Sakshi Damke 15-1,15-8; Pallavi Pitale bt Radha Mundle 15-13,15-10; Mugdha Agrey bt Vanshika Agrawal 15-8,15-12; Nidhi Chandak bt Palak Thakkar 15-4,15-6; Rashi Lambe bt Yashasvi Rao 15-1,15-2; Ritika Thaker bt Vaishnavi Apte 15-3,15-5.
U-13 boys (PQF): Jaskaran Suri bt Shashank Gupta 15-6,15-10; Rohan Gurbani bt Parth Thakkar 15-5,15-8; Ishan Vithalkar bt Tanuj Rathi 15-13,12-15,15-8; Kedar Dapke bt Hriday Deshmukh 15-11,9-15,15-10; Sudhanshu Bhure bt Aditya Deshpande 15-8,15-6; Om Ghode bt Vaibhav Mithe 10-15,15-9,15-12; Sifat Arora bt Kirtesh Chaudhary 15-11,11-15,15-11; Abhiram Sahasrabhojanee bt Aryan Bagul 15-4,15-6
U-13 girls singles (QF): Arya Anchalwar bt Aditi Sadhankar 15-3,15-5; Palak Thakkar bt Advika Saraf 15-5,15-6; Gargi Joshi bt Chaitali Nayse 15-5,15-13; Farha Mirza bt Radhika Deshpande 15-10,15-10; Ritika Thaker bt Saloni Deshmukh 15-3,15-1; Radha Bapat bt Sara Pandey 14-15,15-13,15-7; Malvika Bansod bt Anushka Jhawar 15-0,15-5; Pavitra Somani bt Nikkita Joseph 15-4,15-11