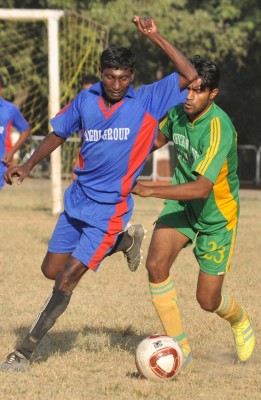 Nagpur News: GNIT and Eagle Sporting defeated Pandav XI and Krida Vikas respectively in the Late Jawaharlal Darda Second Division League organized by Nagpur District Football Association (NDFA) in association with Lokmat Pvt. Ltd at Central Railway Ajni ground onNovember 29, 2013.
In the match which, played at morning session, GNIT upset Pandav XI 1-0.
Shawnil Rego put their side ahead by scoring a goal in the 63rd min respectively. Anand (46th min), and Melcom Anthony (57th min) of Pandav cautioned with the yellow card whereas Nehal Yadav 29th min, Piyush Yadav 67th min of GNIT warned with yellow card. Sandeep (51st & 69th min) of Pandav got the red card during the proceedings. Also, Kunal Paul 65th min, Sandeep 69th min of Pandav penalized wih the red card by match referee.
In the second match, Eagle Sporting "B" beat Krida Vikas Sanstha 2-0. Rohit Kathaote of Eagle Sporting found the net in the 25th min and opened their account.The winning goal for Eagle Sporting was scored by Swapnil in the 65th min. Krida Vikas Sanstha was unable to score any goal.
The other matches of Meghe Senior Division and Meghe First Division were cancelled due to the unavailability of ground.
Schedule for tomorrow's matches:
Meghe Senior Division
Qidwai Sporting v/s Eleven Star at 2.30pm on police ground.
Meghe First Division
Super Six
No match.

Darda Second division League
1st Match : Rohan Academy v/s Nagpur City Club "B"  at  8.30am  on Ajni Ground.