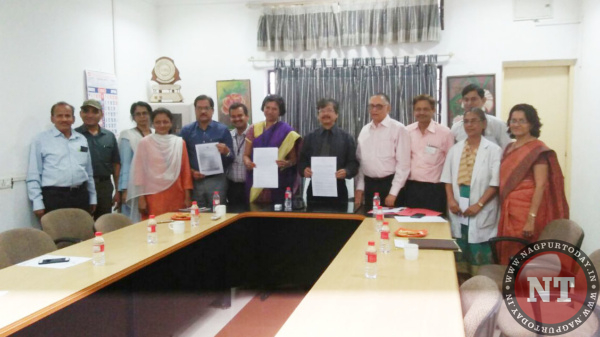 Nagpur: On April 11, 2018, the above two big giants from Medical & Engineering institutions have come together so as to carry out research in Bio-Medical field & Technology Business Incubator field that shall benefit to the society. They have agreed to extend mutual support, mentorship, consultation, Laboratory support& all the necessary help to each other in carrying out interdisciplinary research projects that shall benefit to the society.
Today in a small function, organized at the Dean's Office of NKP Salve Institute of Medical Sciences, four important MoU's were signed by Dr. Preeti Bajaj, Director, G.H. Raisoni College of Engineering Nagpur & Dr. Kajal Mitra, Dean, NKP Salve Institute of Medical Sciences & Research Centre & LMH, Nagpur.
The four MoUs signed are related to
1. General understanding for mutual help & support to each other
2. Non- Invasive technique for Blood Sugar monitoring in Diabetic Patients
3. G.H. Raisoni Technology Business Incubator Foundation
4. Design modification & analysis of head load sharing apparatus for farm workers & vegetable Vendors.
Following important personnel from the both the institutions were present to witness this historical moment.
GHRCE Team Members:- Dr. Santosh Jaju, Deputy Director, Dr. Shubhangi Giripunje, Dean, Dr. Vibha Bora, Professor ETC, Amol Joshi Dean Industry Relations, Prof. Vipin Khangar, Dean Industry Relations.
NKP SIMS Team Members:- Dr. Suresh Chari, HOD Biochemistry, Dr. Sushil Mankar, HOD, Dr.N.R. Humaney, HOD Medicine, Dr. A. Borkar HOD Pharmacology, Dr. Madhur Gupta & other HODs from NKP SIMS.