Nagpur: In 2007 NMC elections, when BJP candidate Ghanashyam Choudhary lost to independent candidate Parinay Fuke by just 26 votes it rang the alarm bells for Fuke, who had a long career in politics planned for the future.
He was a Congressman then, but had lost the #84, Ramnagar Congress candidature to Naththu Patel. Both had filled forms for Fuke's B form had been rejected and Patel became the official Congress candidate. Fuke decided to contest as an independent – he won against both Congress and BJP, but just scraped through. Despite not getting much help and backing of some influential BJP leaders of the area, including sitting MLA Fadnavis, Ghanashyam Choudhary was defeated by a slender margin of just 26 votes!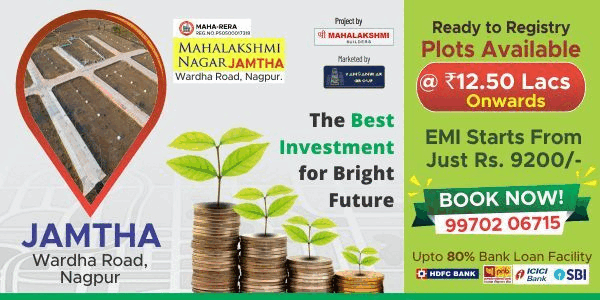 There was still stunned disbelief in his area of Pandhrabowdi after his defeat. Because Ghanashyam had been THEIR candidate – he was one of them. If you meet him you will realize he is not your typical politician at all.
Polio afflicted since the age of 2, Choudhary could not walk without braces till recently. It was only an operation of his legs that has made him somewhat mobile. He comes from the slums himself…a very ordinary lower middle class family. He earned his living as an LIC agent and has a working wife who is a banker with Tirupati Urban bank. His work with LIC brought him to the notice of senior RSS leader Sanjay Joshi way back in the 1980s. He liked young Ghanashyam's spunk and spirit and asked him to do 'samaj seva' for his fellow slum dwellers. Choudhary joined BJP in '87.
When BJP – Shiv Sena first came to power in Maharashtra, Minister Vinod Gudhadhe Patil, also a politician hailing from nearby Jaitala area of Nagpur, made him member of Sanjay Gandhi Niradhar Council which worked for  rehabilitation of poor widows and physically handicapped people. His enthusiasm had ensured him a future role in Corporate elections at least. The area where he worked was a Reserved one( for SC) ward though. In 2002 it became 'open'. Ghanashyam was asked to get ready for the next elections in 2007. Which he lost by those few votes. He was very confident that in the next elections victory would be his.
This prospect seemed to have become obvious to the winner too. He began preparing for the next elections with right earnest.
Genuine voters, people living in the ward/ Prabhag are not very trustworthy though, he felt. They can be swayed by emotions, local loyalties and genuine work. Better to have a big 'vote bank' that is captive – completely in your control. Co incidentally his family business of being labour contractors for large projects worked in his favour. They used to source village people from nearby villages to work on such projects.
In Nagpur you can register yourself as a voter, or there is 'Matdan mojani'  twice every year. Villagers were brought to Nagpur, a false 'adress' and other details fabricated painstakingly and they began getting registered here. Without cancelling their names from their original village voters' lists though. So these people were – and still are in some cases – registered voters from TWO places simultaneously which is illegal.
A well wisher warned Choudhary that this was happening. He did some investigations and found that this was true. And it was being done systematically on a very large scale.
" Candidates, when they lose elections complain about bogus voters. I made a written complaint an year before the elections – in 2011 itself.
In a letter dated 30.10.2011 I pointed out to the Election Officer in the Jilhadhikari's office that in any booths of Nutan Bharat School in Ramnagar and also in Municipal school of New Futala many bogus voters' applications in huge lots are being sent to one Shri Pande of the concerned NMC office. Further, pressure was being brought to accept them without questioning since it was known that they were false. I requested that the matter be looked into.
I complained officially as a member of BJP's Nagpur executive and I received a prompt reply."
So Ghanashyam Choudhary was surprised and shocked when come election time in Feb 2012, many of these bogus voters turned up for voting.
Volunteers from all parties were aware that this could happen so they were on a look out already. Sure enough, they caught four aged ladies who confessed they had all been brought from a nearby village by bus and did not belong to Nagpur. They were handed over to the police but later in the evening Choudhary learnt that no action had been taken against them and they were asked to just leave!
Again Parinay Fuke, contesting as an Independent this time too, got elected but with a suspiciously huge margin of thousands.
But the presence and details of the 4 women who were 'caught' gave a lead to Choudhary about where to look for as the 'source' of the bogus voters.
He then began a very painstaking and very thorough search and research that had him traveling to and combing villages of Katol, Saoner and Nagpur districts and identifying bogus voters. He went to villages like Kukkudi Panjra near Kalameshwar and Julona Fuke in Narkhed tehsil ( Fuke's home town)… he got hold of voters' lists from those villages and looked for names and photos that co incided with names on Nagpur list. Which he obtained through RTI. He also went through their supportive documents and found all of them false!
Whether it was the electricity bill, the mobile numbers given or proof of age ( required for women voters of a certain age group) – THEY WERE ALL FALSE.
For instance, a woman Kanchan Sahare, had submitted a School Leaving Certificate of Saraswati Vidyalaya, Nagpur as age proof. When Saraswati Vidyalaya was sent a photocopy of this TC they categorically denied it on all points. No admission had been made that day in the school, nor was the signature purported to be of their Headmistress genuine.
In some cases a lot of work had gone into fabricating the lies, in some cases carelessness had set in and obvious and blatant falsehoods were caught in the very documents submitted by them.
For instance, a SPANCO electricity bill has been tampered to show as bill submitted to Manikrao Sonaji Nehare, residing in Futala Basti as adress proof.
In the same document, at the bottom, the name of the REAL recipient 'Shri Ganesh Sampat Uikey' is also mentioned which they carelessly overlooked changing. Happens when you are introducing bogus voters in thousands!
(And for the doubting Thomas who will ask – how do we know if the real resident is Uike or Nehare, Choudhary has confirmed Uikey's names from Spanco's records.)
Since 2012 elections, this amazing man Choudhary hasn't been still. He has been working like a computer – with the aid of many real computers. He has voters lists of numerous villages which he collates with Nagpur lists.
From some village he finds 50 bogus voters, from some fewer. He then checks them with Collectors' office list of Nagpur voters and what proofs they have submitted.
He is doing this collating day and night. He is buried under the paper work of thousands of these bogus voters – but can still quote any case in its minutest detail. Supporters, even adversaries are amazed by his tenacity, his patience and his skill at getting details.
"If he could have used this energy and talent for the good of people, and development of his ward, he could have done wonders" they say.
That is the tragedy of our "vibrant Democracy". An honest, sincere and ordinary man is working like one haunted to prove that another man has won elections not fought fairly. In fact fought with falsehoods.
Ghanashyam is still with the BJP and considers himself a party man. But he has no position in the party now.
Till two months ago he was V.P. of the Nagpur B.J.P.
Now that post has gone to another man who has recently joined the Bharatiya Janata Party.
Guess who?
Parinay Fuke! Not only is he a 'proud BJP Corporator' now he seems very close to the inner coterie of Devendra Fadnavis C.M. who is an MLA of the same area as Fuke and Choudhary.
They are to be seen together at many weekend functions as invitees.
And why not? Today Parinay Fuke is a very wealthy man. He has been Corporator for two terms and fresh elections are round the corner!!