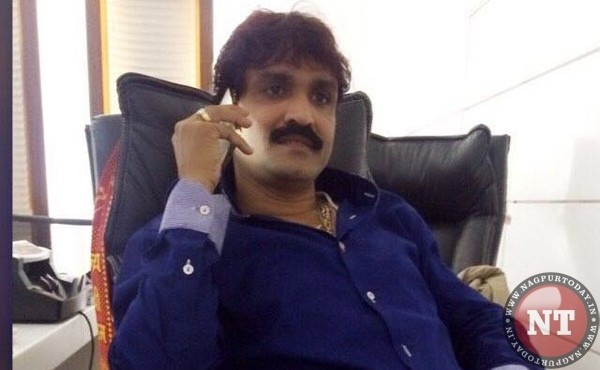 Nagpur: One more case of cheating has been slapped on gangster Santosh Ambekar and his one accomplice. The gangster has already been arrested on the charges of fraud of Rs 5 crore and extortion based on a complaint lodged by a Gujarat businessman Jigar Pareshbhai Patel, a resident of Kapadvanj, District – Kheda with Sitabuldi police on Saturday (October 12). Patel has accused Ambekar and his henchmen of duping him of Rs five crore and demanding extortion of Rs one crore.
In the latest case, another businessman from Gujarat, Hemant Mohanji Purohit (31), resident of Kisan Apartment, Flat No. 406, Desai Ward, has lodged a complaint with Sonegaon police against Ambekar and his one accomplice named Ramesh alias Ram Patil, aged 38-40. Purohit told police that he runs a firm named Cosmo Plastic Waste and also property dealing. He was searching for a rented godown. Meanwhile, on August 20, 2018, the accused Ram Patil met him near parking slot at Dr Babasaheb Amedkar Airport in Nagpur and 'assured' Purohit to help him.
Ram Patil indtroduced Purohit with accused Santosh Ambekar. Ambekar discussed with Purohit a land deal and asked him to deposit Rs 25 lakh in Balaji Firm. Subsequently, Purohit agreed to deposit the amount. Later, the accused phoned Purohit and asked him if he wants to exchange currency notes. The accused Ambekar further lured Purohit that if he deposits Rs 1 core in Rs 2000 denomination, he will get Rs 1 lakh commission.
Agreeing to the "deal," the Gujarat buinessman deposited Rs 1 crore on Balaji Firm situated at Wapi, Gujarat where Purohit was given a torn Rs 10 note having number 44M 809681. He was told to collect money from Balaji Firm in Nagpur by showing the torn piece of Rs 10 note. However, when Purohit did what he was told to do, he was refused money as was 'promised.' When Purohit phoned the accused Ram Patil, he asked him to forget the money of Nagpur Balaji. The accused further threatened to kill Purohit if he insisted return of his money.
Sonegaon Assistant PSI Mohankar, based on Hemant Purohit's complaint, booked the accused Santosh Ambekar and Ram Patil under Sections 420, 385, 506(B), 34 of the IPC and launched a detailed investigation into the matter.