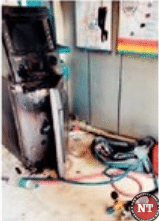 Nagpur: A 3-member gang of thieves made a futile attempt to cut open the cash dispenser of an Automated Teller Machine (ATM) of Canara Bank near Ginger Mall, Main Bazaar Road, Jaripatka, in the small hours of Thursday.
The unsuccessful bid by the gang to cut open the cash dispenser came to light when some persons went to the ATM to withdraw cash in the morning. They found the door of the ATM kiosk open and a gas cutter, a semi-burnt machine, welding materials and LPG cylinders lying on the ground. They alerted the police immediately.
Soon, a team of Jaripatka Police rushed to the spot. On seeing the ATM unit in a damaged condition and gas cutter, welding and LPG cylinder on the ground, police contacted Canara Bank officers. Bank officials visited the spot and confirmed that an attempt was made by thieves to cut open the cash dispensers.
Prima facie, a police officer said, fire broke out from the ATM when the thieves were cutting open it. Sensing trouble, they left the gas cutter, welding and LPG cylinders and other instruments there itself and fled the spot, he added.
The police officer said that a search was launched to nab the thieves after bank authorities lodged a complaint in this regard. The police officer expressed confidence that the investigators would soon bring the culprits to book.