– Gadkari's goodwill visit at Belishop ancient Shiva temple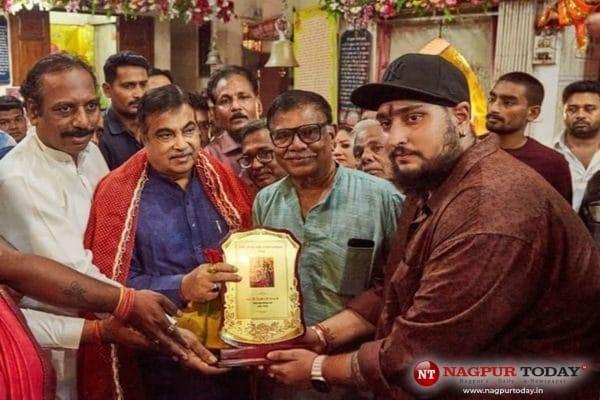 Nagpur – Union Road Transport Minister and Nagpur MP Nitin Gadkari visited the awakened place of Durga Mataji by giving good wishes on the last day of Shardiya Navratri festival at more than 325 years old Shiva temple located at Belishop Railway Colony, Kanmathi Road, Nagpur. On his arrival at the temple, he was welcomed by Dr. Praveen Dabli and Prakashrao (Gundurao).
On this occasion, BJP city president and MLA Praveen Datke, Nagpur Nagrik Bank President Sanjay Bhende, former MLA Dr. Milind Mane, Rabjyot Tuli were prominently present.
On this occasion temple members Virendra Jha, Sharad Sharma, Umesh Choukse, Dr. Praveen Dubli, P. Satyarao, P. Krishna Murali Pandey, Jugalkishore Shahu, Prakashrao (Gundurao), Manish Naidu, P. Rajesh Divedi, Vishwajit Dey and other members of SSC Railway Sri Sri Durga Puja Committee, members of Sai Seva Samiti, Dipankar Dada of Ganpati Utsav Committee, all women members of the temple committee including GN Patnaik, Premlal Yadav, Ganesh K., Ramakrishna Patnaik, Vilas Khade were prominently present.
In the ancient Shiva temple, Gadkari was welcomed by the Utsav Samiti by giving Mataji's sardine, Shriphal and memento. Gadkari got information about the temple by introducing all the members. Giving information about the temple, Dr. Praveen Dabli told about the antiquity of the temple. Also, it is the only temple in Vidarbha where once a year the Sun God consecrates Shivalinga and Ramji with his rays. On the occasion of Ram Navami, the North Nagpur procession is also taken out from this temple.
Also informed about this information. He was also given information about the beautiful complex of the temple and other trees including 200 years old trees in the premises.
Gadkari praised the work going on in the temple premises. The Mahila Mandal also welcomed Gadkari with rose flowers. A large number of devotees were present on the occasion.