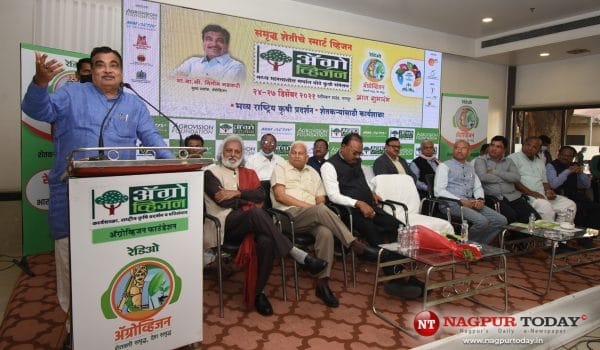 Nagpur: The Union Minister for Road Transport & Highways Nitin Gadkari on Saturday launched Agro Vision Radio in Nagpur.
Rajya Sabha Member Dr Vikas Mahatme, MP Ramdas Tadas, former Guardian Minister Chandrashekhar Bawankule, MLA Ashish Jaiswal, Prof Jogendra Kawade, Girish Gandhi, Ravi Boratkar, Ramesh Mankar, Dr. C. D. Mayee and other prominent personalities were present on the occasion.
Addressing the gathering, Gadkari said, "Farmers in Vidarbha could become prosperous if they are informed about latest technology in agriculture, provided guidance on research and various other aspects. With concerted efforts, the scenario like Israeli agriculture could be created in Vidarbha. This is difficult but possible. For achieving this feat, training to farmers, education and technology must reach to the farmers. The concept of Agro Vision is for the same goal," the Union Minister stressed.
Explaining the benefits of technology which he experienced, Gadkari said the Vidrabha farmers would not lag behind. I am happy when farmers reap gains. But such farmers are in hundreds. The number should be increased to thousands of farmers. The facilities and resources we bring are not taken for benefits, lamented Gadkari.
"This year, we exported oranges to Bangladesh through railway. The orange growing farmers were provided subsidy in railway freight charges. Earlier, there were no grading units for oranges. But, we have now 13 factories for this purpose. Trains from Katol, Narkhed, Warud, Mosrhi would also be started for export of oranges. Similarly, efforts are being made to start railway from Akot for export of bananas," he stated.
The 12th edition of Agrovision is scheduled from December 24-27, 2021 at Reshimbagh Ground in Nagpur. The journey of Agrovision over the years has been remarkable and it has become one of "India's Premier Agri Summit". The vision is to create a prosperous agrarian society where farmers are well informed about the latest practices and agriculture becomes a remunerative and attractive profession. Our focus this year will to bring latest technologies and products to the farmers. Keeping this in mind, the theme of the 12th Agrovision has been aptly chosen as "Transforming Agriculture Through Technology Innovations".