Gadkari inaugurates Madar River restoration project work in Narkhed


Nagpur: Union Surface Transport Minister Nitin Gadkari on Sunday inaugurated the Madar River Restoration project by performing 'Jalpujan' in Narkhed Taluka. The ambitious project has been undertaken by Dr Ashish Deshmukh, an MLA from Katol-Narkhed area under Jalyukta Shivar Campaign. The restoration of Madar River would facilitate blocking of the river water that would ultimately increase levels of water under ground as well as on the surface. The increased levels of water would effectively deal with the shortage of drinking water being faced by citizens and farmers in Narkhed Taluka.
Speaking on the occasion, Gadkari said that blocking of water with the construction of bandharas (bunds) under the Madar River restoration project would increase water levels of surface as well as underground. The increased levels of water will certainly remove shortage of water being faced by citizens and farmers of  Narkhed Taluka. But the water should be used judiciously. If the river is dug deep then there will be no shortage of water at all in future. This project will irrigate 1500 hectares of agriculture land in the area. In the coming days, the Government is targeting 24 hours of power supply which will facilitate running of agriculture pumps 24 hours and increase the production. Dr Ashish Deshmukh and citizens deserve appreciation for undertaking Madar River restoration and solving the water shortage problem under Jalyukta Shivar campaign, said Gadkari.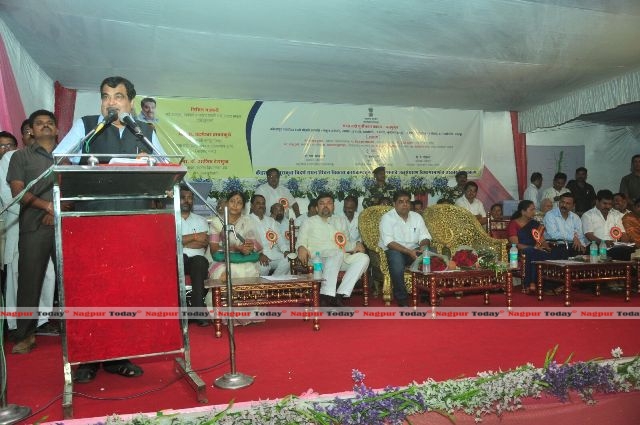 The Union Minister performed 'Jalpujan' marking the commencement of Madar River restoration project. The programme was held at Mauza Kharsoli in Narkhed Taluka on Sunday. The function, organized by Water Conservation Department, was attended by Minister of State for Industry Pravin Pote Patil, MLA from the area Dr Ashish Deshmukh, Nagpur ZP President Nishatai Savarkar, Nagpur ZP Education and Finance Committee Chairman Ukesh Chavan, Narkhed PS Chairman Raju Harne, and others.
"Water stock in areas under Katol-Narkhed has gone 800-900 feet deep under the ground. In Maharashtra, the length of Madar River is 28 kms (Madar River originates from Madhya Pradesh and it merges into Jam River at Narsingi).  The villages situated along Madar River in Maharashtra include Mohdi, Narkhed, Kharsoli, Junona-Gharad, Dindargaon, Bopapur, Parsodi, and Narsingi. The restoration of Madar River was must for blocking the water by constructing bandharas and thereafter making the blocked water available to citizens and farmers for their use. Now, the problem of water shortage being faced in Narkhed will get solved by constructing 15 bunds at fixed places under the project. The Jalyukta Shivar campaign is successful in Katol-Narkhed areas. This has brought cheers to farmers but further development works will not stop and it will continue in future too. I am focusing my personal attention at these development works," asserted Dr Ashish Deshmukh.

Dr Deshmukh on the occasion demanded construction of cement roads in Katol-Narkhed areas as steps towards development. Similarly, Nagpur-Katol-Morshi and Karanja-Narkhed-Pandhura should be converted into National Highways, demanded Deshmukh to Gadkari. Stating the demands are justified, Gadkari announced that the two sections will be National Highways.