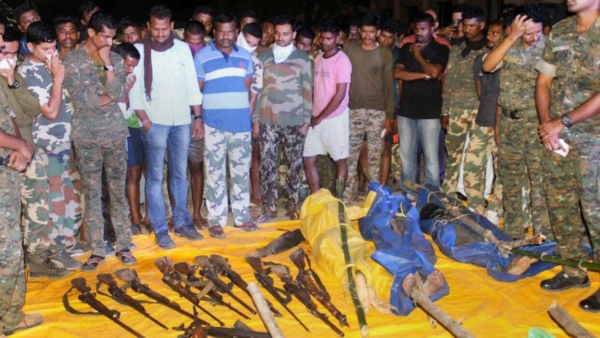 Gadchiroli: Security forces on Tuesday announced that they have recovered 15 more bodies of Naxals who were killed in an encounter with police commandos and CRPF personnel at Kasnasur near Bhamragarh in Gadchiroli district in Maharashtra on Sunday, taking the total number of casualty among ultras to 31. In another encounter, six Naxals were gunned down by police at Rajaram Khandla on Monday.
15 decomposing and bloated bodies of slain Naxals were recovered from Indravati river.
"In operation by C-60 in Kasanasur jungle area , 16 dead bodies ( 9 male, 7 female) were recovered on April 22. Out of 16, 12 bodies are identified including senior Naxal commanders Sinu and Sainath. Two AK47, two SLRs, one .303, five 8mm, six 12 bore firearms were recovered from the spot," Additional Director General of Police (state law and order) Bipin Bihari said.
Due to heavy rain and the paucity of manpower, search operation was stopped and parties returned back, he added.
"On Monday, the operation was again launched to search for bodies in Indravati. Up until now, 15 bodies (7 male, 8 female) have been recovered from the water. One Insas, one 303 weapon with pittus and detonators also found in the river. Search for more bodies and material is going on," said Bihari.
Earlier, while announcing the encounter on Sunday, senior police officers had on said that the deceased included some high-ranking Naxals.
On receipt of specific information through local intelligence that Naxals have camped in Tadgaon forest near Bhamragad tehsil, two specialised troops of anti-Naxal squad C-60 swooped down in the area and engaged Naxals in a gun battle on Sunday morning.
The encounter broke out at Kasansur forest in Bhamragad between the ultras and a joint team of security forces comprising C60 commandos, a specialised combat unit of the Gadchiroli police, and personnel of the 9th Battalion of the CRPF, around 10 am on Sunday.
It lasted for 90 minutes, DIG (Gadchiroli) Ankush Shinde said.
Addressing a joint press conference in Gadchiroli on Sunday evening, Inspector General of Police, Anti-Naxal Operation, Sharad Shelar and local SP Abhinav Deshmukh said security forces came under fire from Naxals hiding in the forest.
Gadchiroli Police, in a press release, mentioned the names of some slain Naxals, including Shrinu alias Shrikanth (51), a native of Challgari in Telangana, who was deputy commander.
Another deceased ultra was identified as Deepa alias Aamsubai, a native of Adilabad, who was involved in 82 cases of serious nature.
Sainath alias Dolesh Madhi Atram, a resident of Gattepalli in Gadchiroli, who was a division committee member and Permili in charge was also among those killed, it said.
In another intelligence-based operation in Kapewancha area of Rajaram Khandla post, exchange of fire resulted in death of six Naxals (2 men, 4 female), including Divisional Commander Nandu. One Insas, one SLR, one 303, two 12 bores, one musket with other material was recovered, police said.
Director General of Police (DGP) Satish Mathur on Monday said that split among Naxals and lucrative government schemes helped police in getting concrete information against Naxals active in Maharashtra
In the past five years alone, 605 Naxals surrendered before the police while as many as 53 Naxals were gunned down in police encounters, he said.
He clarified that since the deceased Naxals were operating under the Dandakaranya scheme, no direct linkage of them with urban Naxalism has surfaced as of now.
He concluded that the police involved in anti-naxal operations are now armed with Underbarrel Grenade Launchers (UBGL), night vision binoculars, thermal imagers, bullet-resistant helmets and jackets and are trained by National Security Guards in bomb disposal, which helped them to a great extent in tackling naxalites in the region.