Furious students protest against unemployment at Nagpur asking does the Govt. want us to sell pakodas?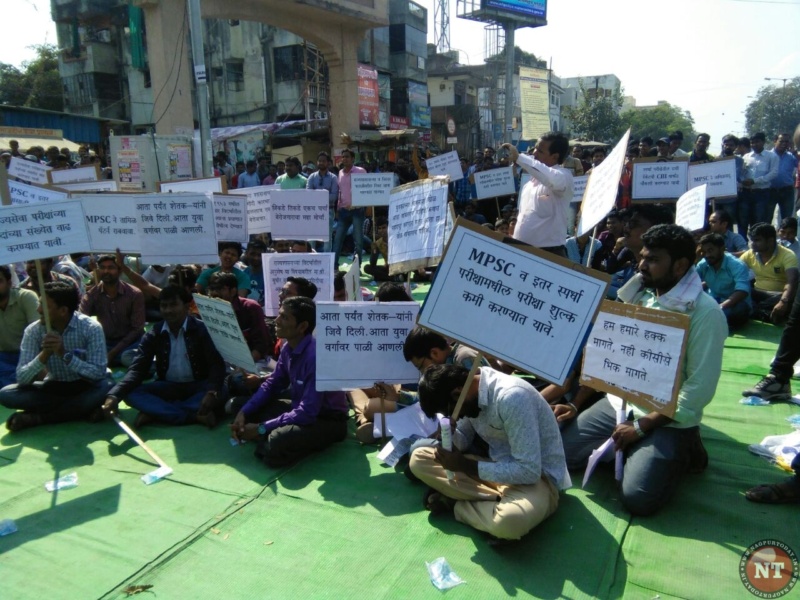 Nagpur: "While our parents encourage us to study, does the government want us to just sell pakodas?" ( Mai Baap mhantat shala sheek, Sarkar mhanta pakode wik!)
"You have taken farmers lives , do you want to target students now?"
"You have money to give increased salaries and pensions for 5 years to MLAs, M.P.s, but no money for jobs to employed youth?'
Money for statues and MP Mahotsav but not for jobs?
One tribal student from a village on the MP border demands to know how come there are funds with the government to build mega statues and hold week long MP's cultural festivals but not offer employment to needy students?
She also complained that tribal and Dalit females were being discriminated against. While for male students minimum % required is less, this opportunity is not open to female students, she claimed.
These were some of the angry questions students asked at an agitation they began on Thursday at the Chota Tajbagh area in Nagpur.
Thousands of students participated in this agitation, including a fair number of girls, who are upset and anxious about their future prospects after the state government and the central too put a freeze on employments.
State puts out ad for only 69 positions
Many of the students have cleared M.P.S.C, U.P.S.C and Banking exams, Railway recruitment exams but there are still no jobs on offer. Students, and their parents, spend lakhs in special coaching classes, tutorials to prepare for these exams in the hope of landing a good job. Now these hopes have been lost and money spent in vain, they feel.
Rubbing salt in the wounds of these unemployed youth, the Maharashtra govt. 'Lok Seva Ayog' took out an advertisement for just 69 positions recently. (It is learnt that 6 jobs have been reduced already from 69!)
Earlier exams were held regularly and many local positions like 'talathis' filled.
Now positions are being filled on contract basis with Contractors involved.
"This opens way for nepotism and favours. Contractors will fill up positions with people who are referred by politicians. Bribes can also be involved" protested a youth.
Why discrimination in exam fees?
Another 'scam' the students are pointing to is the fees that the government charges from students to appear in state competitive exams.
"Backward castes, Dalits etc are charged Rs. 250/ while open category students are charged Rs. 500/. Are all open category students rich?" Demanded one student.
Why no MPSC exam center in Nagpur?
A girl named Reena complains that the govt. has combined 3 exams under the MPSC banner now and there is no center for the exams in Nagpur.
These exams are conducted in Mumbai.
"Not everyone has relatives in Mumbai with whom they can stay for giving exams. Because of this many girls from rural areas of Vidarbha cannot even appear for the exams!" Complained Reena.
No political party involved
The main point to note is this agitation was not organized or sponsored by any political party.
It was organized by the Vidarbhawadi Vidyarthi Sanghatna which is a apolitical organization.
Student and student leaders who took part in this 'andolan' were Mahendra Kapse, Sanket Sarode, Chandu Dange, Sanjay Randive, Reena Kaydalwar, Sheetal Raut, Neha Satav, Sumitra Sakharkar, Vinayak Tadas, Rahul Hardule etc.
These students are all also firmly in favour of Separate Vidarbha.
Only an independent Vidarbha can solve our problems they say.