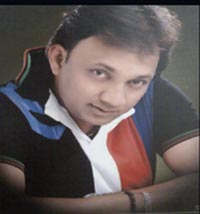 Nagpur News: In a run up to the general elections next year, the BJP has done every bit to give a refurbished look to the party. In its newly announced national level general body BJP national president Rajnath Singh has made all out efforts to accord the party with "Team-2014" status. Calling back Gujarat Chief Minister Narendra Modi in the party's parliamentary board after an exile of six years seemed to be the king of all decisions but having done that, the party has largely ignored the minority leaders. At least a faction of minority leaders in Nagpur believes the same way.
BJP Maharashtra minority morcha president Mohsin Zafar Khan however appreciated the decision to make senior party leader Mukhtar Abbas Naqwi the spokesman but he had expected more than this much. Mohsin said that no leader from Maharashtra except Nitin Gadkari has been assigned the key post in the party. This is being seen as step motherly treatment to the state. He said that the BJP state president's post should be entrusted to the party's fresh blood and new face.
He opined that the leaders like Vinod Tawde and Devendra Fadnavis should be considered for the post of state BJP president so that they could work in the larger interest of Muslim community and get the party to win with thumping majority.
Mohsin expressed that entire Muslim community wished for the similar development within the party factions.