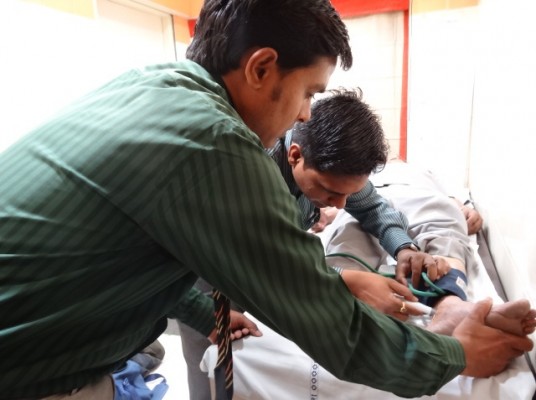 Nagpur News: Orange City Hospital and Research Institute (OCHRI) conducted a screening camp for Peripheral Artery Disease (PAD) from 10:00 am to 2:00 pm on Saturday, December 1. The camp included free Peripheral Artery Doppler Studies to screen PAD, as well as awareness regarding management of diabetes, hypertension, cholesterol and a mild change in the routine habits to avoid the risk of PAD.
According to OCHRI, Peripheral Artery Disease (PAD) is one of the most common health problems faced by people in our country. This disease is also known as Peripheral Vascular Disease (PVD) which refers to the obstruction of large arteries of legs and arm. PAD can result from atherosclerosis, a process in which plaques are formed inside the arteries.  This further leads to stenosis, an embolism, or thrombus formation and blocks the arteries. Lack of blood supply towards the extremities causes lot of problems, such as Arterial Thrombosis, embolism, gangrene and septicaemia, which can lead to amputation of the limbs
Due to ignorance and busy schedule, people initially tend to neglect it and later on face irreversible problems. According to Dr. Devayani Buche, Consultant Physician, OCHRI, "Severe pain or cramps in legs while walking a short distance, mild pain in hands and abdomen, numbness, weakness or cramping in muscles, sores, wounds, or ulcers that heal slowly or not at all, noticeable change in colour (blueness or paleness), temperature (coolness) when compared to other limb, diminished hair and nail growth are the major symptoms of this disease."
Dr. Buche further said that risk factors of PAD involve Smoking, Diabetes Mellitus, Hypertension, High Cholesterol, and obesity. Men above 45 years of age, or those with a family history of Heart Attack or Stroke and PAD are more prone to PAD.  Regular Preventive Health Screening, BP, Sugar, Lipid Profile Check and follow up with the doctor on onset of above mentioned symptoms can lower the risk of PAD.
Dr. Anup Marar, Director, OCHRI  expressed that the aim of the OCHRI is to create awareness among the people about the progress, prevention, treatment and care of PAD, and also screen the people who are at risk of developing PAD to prevent further complications.
Dr. Devyani Buche guided the patients regarding the Peripheral Artery Doppler. Studies were also done free of cost to diagnose PAD. Smt. Kumari Shaji, Ms. Shilpa, Ms. Harsha, Ms. Archana of OCHRI and Shri. Amit Sharma under the leadership of Dr. Deepak Dongre, SMO I/c Special Projects, worked hard for the success of this camp.