Nagpur: A free consultancy camp is being organized by city's Orange City Hospital & Research Institute (OCHRI) for needy patients suffering from varicose veins. Dr. Manish Agarwal, Interventional Radiologist will render his expert services in this camp.
Dr. Manish Agarwal informed that patients having large veins visible just under the surface of skin, mild swelling of ankles and feet, painful, achy, or "heavy" legs, throbbing or cramping in legs, Itchy legs, especially on the lower leg and ankle can avail the expertise during this camp.
Dr. Anup Marar, Director, OCHRI, said that, "Avighna" – Centre for Heart & Vascular Health at OCHRI caters to needy patients suffering from varicose veins from all over Central India and has advanced radio frequency ablation non-surgical facility to treat such eligible patients.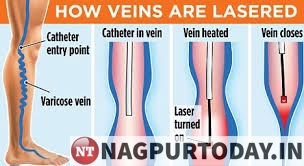 Dr. Deepak Dongre, Medical Superintendent, OCHRI stated that, "Dr. Manish Agarwal is skilled in treatment of Varicose veins, DVT, peripheral vascular disease, AV malformation, recanalization, stenting, embolization and all vascular IR procedures. He is well experienced in diagnostics & therapeutics intervention radiological procedures."
Dr. Manish Agarwal will be available for consultancy in this exclusive camp between 10 am and 12 noon daily from April 2 to 5, 2019 at OCHRI OPD. Needy selected patients will also be provided subsidized investigation and package for treatment. Patients may contact OPD Reception on phone number 0712-6634899 and register their names. For any assistance, one can contact Priya Sashi, OCHRI PRO.