MIDC Industries Association (MIA) Hingna was formed over two decades ago to look to the welfare of the industries of the largest and oldest industrial area of Nagpur. They have been involved in trouble shooting for industries as well as building new infrastructure for the industrial hub like sophisticated industrial lab, fully equipped guest house, conference hall and transport terminals.
February 2nd is celebrated as the Foundation day of MIA when some handpicked industrialists are felicitated for their sterling performance as the 'Navratras' of MIDC.
The Excellence Awards were distributed at the hands of Chief Guest of today, Lt. General Ravi Thodge, a much decorated Army officer who has been awarded with PVSM, AVSM, SM and VSM in his long career. Jagdish Sangitrao , Regional Officer, MIDC was the Guest of Honour.
Vijayshri Khanorkar, Founder of Vaipani Herbals based on principles of Ayurveda; Hemant Bhave Founder of Bhagyashree Home Appliance ( P) Ltd and second generation Technocrat Shree Jamdar, Partner in Kinetic gears were the recipients of the Excellence awards this year.
Honouring them, Lt. General Thodge said " that examples like these show us that it can be done, brilliant success can be achieved even in Nagpur, Vidarbha!"
But on the other hand, he also pointed out that industrial clusters in other parts of Maharashtra like Nasik, Aurangabad, Belgaon etc. – tier 2 cities, smaller than Nagpur – have done very well industrially while Vidarbha is still languishing.
"Nagpur is very late to wake up" opined the General, who on his retirement from the army has taken up the Chairmanship of the Vidarbha Defence Indusrial Hub, a body created to promote Defense and Aerospace sectors in Vidarbha.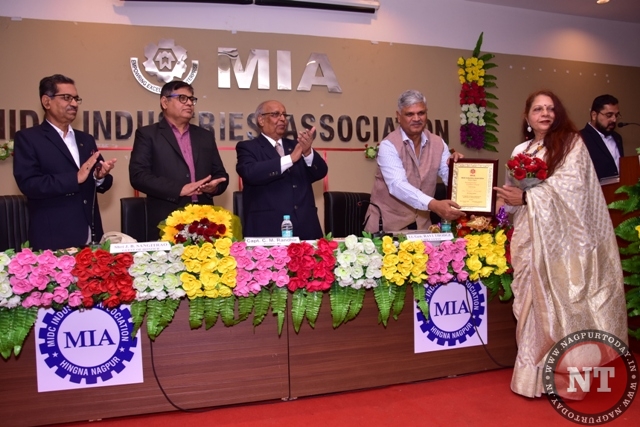 Mincing no words, he said people of Vidarbha lacked in attitude when it comes to entrepreneurial spirit.
"You need passion in your heart and a fire in your belly in your desire to succeed. He bemoaned that many Nagpurians themselves discredited Nagpur as a 'very hot place, known just for its equally hot Saoji food' in front of outsiders.
"We have worked in places like Africa and middle East which are much hotter, but work gets done. The government and agencies like ours can only be Facilitators, the local industrialists have to come forward and exploit the opportunities knocking on their doors via the Defense hub" he pointed out. It may be mentioned here that Lt General Thodge after seeing active service in many sensitive areas like Kashmir and commanding the prestigious Counter Insurgency force later received the assignment of being Master General of Ordnance.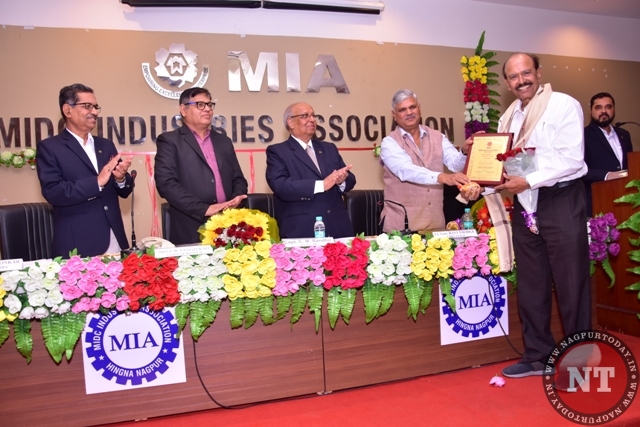 "Nagpur industries have had to face impossible hurdles"
At the outset of the function, in his inaugural speech, President of MIA, Captain C.M. Randhir (Retd.) showed the other side of the coin listing all the hurdles the SSI and SMSE industries have faced in the last five years which has made their condition precarious.
"We have undergone shock and after shock that made survival difficult" he said.
The first shock was demonetization. Money just disappeared from the market affecting production and subsequently sales too.
The second shock was implementation of GST. "Upto 18% GST had to paid as soon as bill was raised to our customers who are PSUs or MNCs. They take their own time in making payments which put an impossible strain on working capital of small industries who often work on CC limits of a few lakhs only."
"Due to 18% tax on Service industries many of them closed down rendering thousands jobless. Then other factors like sharply escalated Gram Panchayat taxes and penalties of up to 55% in the Utility of Power suddenly came into play."
Despite this the industrialists of MIDC, Hingna have made remarkable progress in training Engg students under triple I cell. MIA office bearers like Sachin Jain, C.G. Shegaonkar (Hon. Secretary) have been working with Professors of Raisoni, Ramdeobaba College and even IIM, Nagpur in training students to take up jobs on finishing their degrees.
Past Presidents felicitated
On the occasion of Foundation Day, MIA felicitated many Past Presidents for 'their team work and contribution in raising MIA to its present height.'
The first President of MIA was Basant lal Shaw, Chairman of the NECO group of industries.
He was followed by others like Rajiv Pande, S. Ramalinga, M.S. Kumar, S.K. Mitra, Sunil Sirsikar and last IPP Maayank Shukla. Many of them were present to receive the awards.
Sachin Jain was the M.C of the function and Lanjewar gave the vote of thanks.
By Sunita Mudaliar