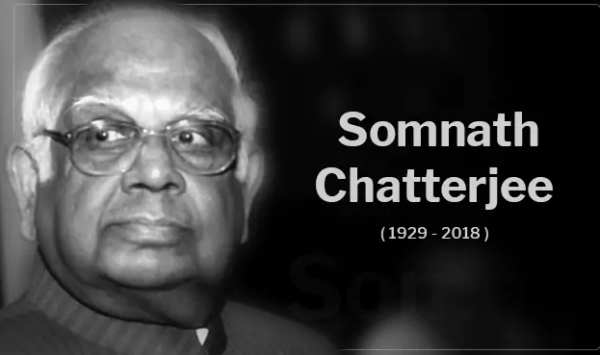 Kolkata: Former Lok Sabha speaker Somnath Chatterjee passes away at the age of 89 years in a Kolkata hospital.
He was in hospital and put on ventilator support after he suffered a heart attack.
Eighty-nine-year-old Chatterjee, who was suffering from a kidney-related ailment, was admitted to the hospital on Tuesday.
A 12-member team of doctors was keeping a constant watch on the veteran politician, the official said.
Last month, the former speaker had suffered a haemorrhagic stroke.
A 10-time Lok Sabha MP, Chatterjee was a central committee member of the CPI-M, which he had joined in 1968.
He was the Speaker of the Lok Sabha from 2004 to 2009.
The veteran leader was expelled from the CPI-M in 2008 for refusing to resign as the Speaker after his party withdrew support to the UPA-I government.
Modi pays tribute to Somnath Chatterjee:
Prime Minister Narendra Modi pays his respects following the demise of former Lok Sabha Speaker Somnath Chatterjee.
On Twitter, the PM writes, "Former MP and Speaker Shri Somnath Chatterjee was a stalwart of Indian politics. He made our Parliamentary democracy richer and was a strong voice for the well-being of the poor and vulnerable. Anguished by his demise. My thoughts are with his family and supporters."
'A loss for public life in Bengal and India':

Former Lok Sabha speaker, Somnath Chatterjee passed away in Kolkata on Monday. The 89-year-old leader had earlier suffered a heart attack on Sunday morning after which he was readmitted to the hospital. Reacting to the death of Chatterjee, President Ram Nath Kovind said that it was a loss for public life in Bengal and India.
Sorry to hear of the passing of Shri Somnath Chatterjee, former Speaker of the Lok Sabha and a veteran parliamentarian who had a forceful presence in the House. A loss for public life in Bengal and India. My condolences to his family and innumerable well-wishers, President Ramnath Kovind said.
Congress president Rahul Gandhi called him an institution and condoled his passing away. I mourn the passing away of Shri Somnath Chatterjee, 10 term MP and former Speaker of the Lok Sabha. He was an institution. Greatly respected and admired by all parliamentarians, across party lines. My condolences to his family at this time of grief, Rahul said on Twitter.
Delhi Chief Minister Arvind Kejriwal said that he will always be missed by the country. Extremely sad news about Somnath Chatterjee ji. One of the greatest parliamentarians of contemporary times he will always be missed by this country. He will be remembered among the greatest Lok Sabha Speakers India ever had, said the Delhi CM.
Expressing his grief former J&K CM Omar Abdullah said, It was an honour to have known you & to have learnt from you. The Lok Sabha was much the poorer by your absence in recent years. India has lost a parliamentary giant today.
VP condoles Somnath Chatterjee's demise : "Saddened by the demise of former LS Speaker, Shri #SomnathChatterjee. He was an outstanding Parliamentarian, who was elected to LS 10 times. He was always affable & highlighted people's problems. He firmly stood by the principles he believed in," tweets Vice President Venkaiah Naidu.