Do you like to know everything that's buzzing in Nagpur? Like our page to stay updated!
[supsystic-slider id=116 position="center"]
So it's a weekend and you don't want to be bothered with cooking. Or you have to rush for a 9 AM meeting and breakfast is not yet ready at home?
Don't fret! Just head to Nescafe Illusions which is bang on Ambazari road, opposite Dharampeth High School. On the way from anywhere to anywhere. Open for you from 8 AM till 11 PM, without a break! So, not just breakfast. Whenever hunger strikes, you can head here.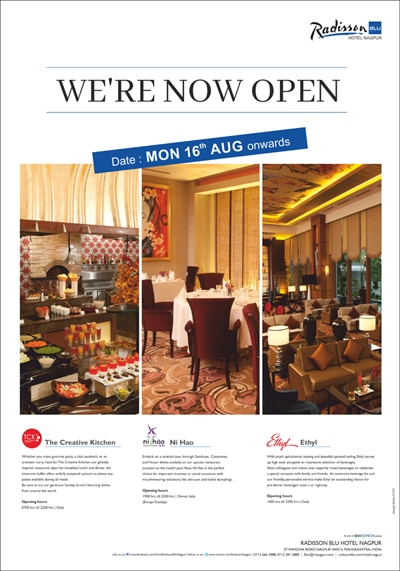 8 AM onward, you can dig into a hearty breakfast of eggs made to order; cereal with fresh fruits, Maggi, waffles, sandwiches or sausages. Even our collective favourite in Nagpur is available here – kheema pav. What's more, none of these dishes will burn a hole in your pocket – nothing is priced above Rs.200/ max! You also have the privilege of our Nagpuri food expert, the ever smiling Ashwin Kumar Salve, whom we have known from the days of Temptations, near Centre Point hotel, that was the most favorite hanging place for youngsters, whipping up the dishes for you himself.
Gauraang Shiksharthi, the Proprietor of Illusions, was with Nestle Company in Mumbai and Pune for 8 years in Marketing. Starting such joints in partnership with Nescafe was his brainchild. He resigned from Nestle, waited for one year to get distributorship and then began on his culinary journey. There are four 'Nescafe' outlets in colleges like VNIT, LAD – Seminary hills, Priyadarshini and Ramdeobaba and the one on Ambazari road.
Earlier it was only beverages, hot and cold and sandwiches, but since a year now a full menu has been introduced. And it's not just breakfast – starting in the morning, Nescafe Illusions is open till well into the night!
So successful has the Nagpur model been that they will soon replicate it elsewhere in the state. Till then, enjoy this unique offering exclusive for us!
Address:
Ambazari road, Dharampeth, Nagpur
Contact:
Gauraang Shiksharthi – 9158505999