Nagpur: Every food lover of Nagpur will feel the loss of a dear friend in the passing away of Fonging, who introduced not just Nagpur but all of Central India to authentic Chinese food many decades ago.
Fonging Shin Yen Chang, known popularly as 'Mr. Fong' was only 63 years young. (No one who knew him could even remotely think of him as old). Just a few weeks ago he was detected with liver cancer and passed away in the Shanti Nursing Home in Sadar where he was hospitalized briefly. He and his family lived in Sial layout.
The starting of Nanking
To a city that was still a novice at eating out – believe it or not, Saoji food hadn't even been introduced to our pallets then! – a Chinese family who had migrated to the city took a huge gamble and decided to start a Chinese restaurant.
Earlier known as "Won Son", Nanking Chinese Restaurant was established in the Year 1968. That probably made it one of the earliest restaurants of its kind in the whole country, except Calcutta, where there was a huge Chinese population and had a 'Chinatown'.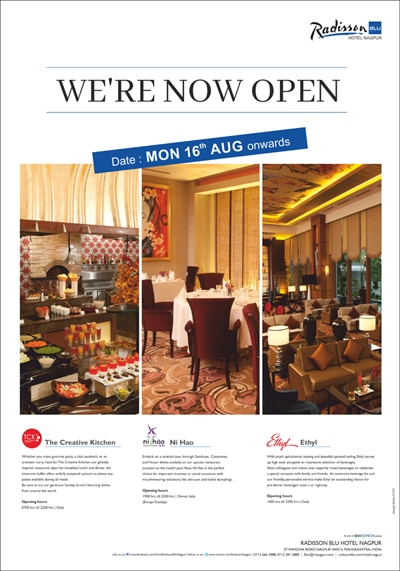 In fact it is this Chinatown from where Fonging's parents came to Nagpur bringing their business of custom made leather Chinese shoes. These were a big craze among connoisseurs for these shoes. If you were going abroad on your first business tour, or getting married, custom made Chinese shoes were as de rigor as stitching a new suit! (They could also increase your height miraculously.)
Another allied business that Chinese settled in India ventured into commonly was running of beauty parlours, strictly for ladies. Fonging's family was into both business' before they decided to venture into starting a Chinese restaurant too. Fonging was only 14 years old then, but he soon took over the reins of running the place from his parents.
It must be said to his credit, and also credit to enterprising Nagpurians, who have often been wrongly accused of not being game to trying 'new foods', that Won Son/ Nanking was a success right from the word go.
Spice loving city people loved Nanking's Monchow soup and hot and sour soups. But what won people's hearts forever was the sweet corn soup, with chicken added for non vegetarians folks. It was something that even children relished. Here is heart felt review of a regular visitor called Neeraj:
"As a child I had never been introduced to the taste of Chinese food, but one day my father dragged me to Nanking and asked me to take a sip of the Monchow Soup and believe me guys, my taste buds just went on a wild ride. I still remember that day vividly. Even though the soup was spicy as hell, I managed to finish half portion that was served to my dad. Haha. That was the day I actually started enjoying Chinese. Thanks to Nanking I came to know what excellent food tastes like."
For fans of Nanking, going there for lunch or dinner became a habit!
I remember Fonging telling me about a gentleman who visited Nanking for lunch every day without fail for many years. He would order the same thing, Garlic chicken and egg fried rice. One day, the Nanking Manager, trying to be helpful and friendly, asked him if he would like to try out something else. The man replied " do you want me to stop coming here for lunch?!"
Then there were families like Sanjay Dahiwade's for whom going to Nanking for dinner once a week was compulsory. Coming from a completely Maharashtrian background, Chinese food was a far cry from their normal food, but they enjoyed going there, as much to chat up with Fonging and his family, as to eat out. They also stuck to their favourite dishes, sweet corn soup being one and 3 G chicken another; by now Fong knew better than to intervene!
Over the years their families became such close friends that when Sanju's two daughters got married, Fong and his wife broke with their strict routine and attended the wedding receptions,mixing with the Nagpur crowd and relishing the Marathi food!
Sanju and his wife Lata who attended Fong's funeral this morning, are inconsolable.
"His loss in our lives can never be fulfilled" they say. "He passed away so suddenly, we did not even have time to say good bye and thank him for all his hospitality over the years… the good times we had with our family and friends in Nanking."
Not many people know that Fonging was also a full time employee of Central Excise where he was a Superintendent. In his school and college days, he was also a skilled hockey player.
Yet, he always made it a point to be present at dinner time in their first restaurant in Sadar where they operated for many years. The place was small, till they expanded to the first floor – and it often had waiting. The place was so small that people had to wait outside on the footpath, and one could often see Doctors, businessmen and their families, in short page 3 people of Nagpur waiting patiently for their turn!
Fonging and his Manager Naidu would attend to them personally, ushering them in as soon as a table became vacant and serving them hot soup asap. What came as a surprise to many first timers in Nanking is how fluent Fonging was in Hindi; he even knew a smattering of Marathi! Not just the lingo, he and his family are completely ingrained with local Maharshtrian traditions. After we visited his new restaurant in Civil lines for the first time, Fonging and his son, not just welcomed us personally, but they even reverentially touched my old parents' feet seeking their blessings. After we were done with lunch he ensured that his staff escorted us to our car holding my father and mother's hands.
He would sometime quip "I love serving you Chinese food, but at home I eat only Indian… I love jhunka bhakar and aamti – rice."
But his restaurants were his pride – Nanking and later Mayfair. From the decor, to the selection of crockery to the cooking of food, he supervised everything personally.
And mind you, he made his eateries a grand success, without ever falling to the easy temptation of getting license to serve alcohol.
"I want my place to remain a family- friendly place; and as it is, people have to wait, why extend time with people lingering over dinner and drinks?"
There are no two opinions about the excellent food served at Nankings. Connoisseurs campared it favorably to even Mumbai's famed China garden, which was started by their family members only.
Many big establishments tried their hands at starting Chines specialty restaurants, some in the vicinity of Nanking, but none succeeded. And Fonging never had to resort to introducing Indian food to attract customers. He kept his cuisine purely oriental, introducing some Thai variants quite recently.
Their motto mentioned on their website is:
"From years Nanking has managed to maintain its quality and consistency in its food and service. We at Nanking thank, respect and appreciate the patronage, business and well wishes of its ever loving customers. Nanking has been there for generations serving authentic Chinese food. Hope it does the same for coming many many many more years !!!"
Yes Fonging, patrons will continue thronging to Nanking for the love of Chinese and your fond memories even as it will continue to run under the stewartship of your young son Cyrus.
We will remember what you said – We at Nanking believe, "To Eat is a Neccesity, To Eat Intelligently is an Art."
Thank you for teaching us to eat intelligently.