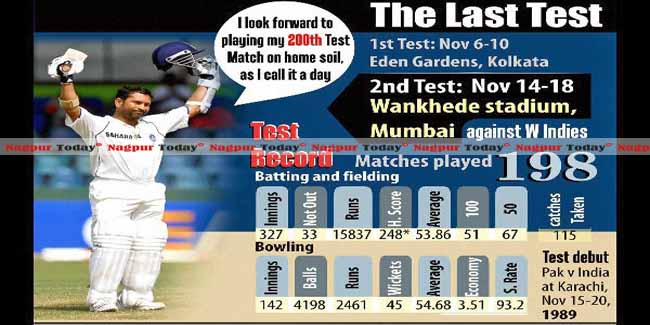 Nagpur Today Special : Sachin Tendulkar is all prepared for an emotional send-off when he plays his 200th and grand finale Test-match in Mumbai on November 13, 2013, exactly 24 years after he began his record-breaking career.
It is a great and last opportunity for his admirers and fans to watch their favourite Sachin Tendulkar in action for one last time before the legend hangs up his boots. Tendulkar, 40, has played more matches, and scored more runs and centuries, than anyone else in either Test or One-Day cricket matches. He is the only batsman to compile 100 international hundreds.
Sachin Tendulkar fondly known as Master Blaster holds numerous batting records, including the most Test centuries and the most one-day international centuries. Sachin was born on 24 April 1973 in Mumbai into a middle-class family. His parents Ramesh and Rajni Tendulkar named him after his family's favourite music director Sachin Dev Burman. Sachin was sent to Sharadashram Vidyamandir where he started his cricketing career under Coach Ramakant Achrekar.
Today, several records remain etched on Sachin's name and most of them may remain on his name for ever. He is the highest run getter in ODIs and has scored nearly 44 ODI centuries, the most by any batsman.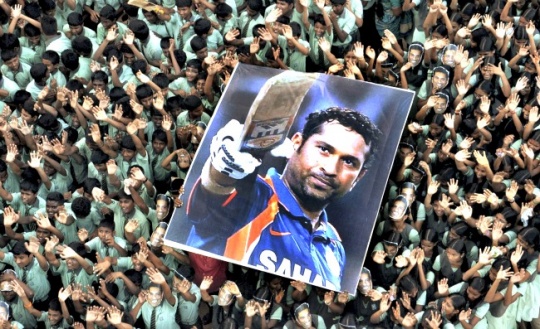 A chronic back problem and Tennis elbow failed to deter him. He has come out stronger after every break. Sachin Tendulkar married Anjali Mehta, the Pediatrician daughter of Gujarati industrialist Anand Mehta, in 1995, some years after they were introduced by mutual friends. They have two children, Sara and Arjun.
He is the first overseas player to play for English County Yorkshire. He is the only cricketer to receive Rajiv Gandhi Khel Ratna, Padma Shri and Arjuna Award. He has most number of international runs in all forms of the game and has been involved in six 200+ partnerships in One Day Internationals most by any batsman. On his name stands the record for most number of successive ODI appearances. He also has most number of Test appearances for India. Tendulkar has the highest number of runs in World Cup matches 1,796 with a strike rate of 59.87. He has also won most number of 'Man of the Match' awards in World Cup matches. He was the 'Player of the Tournament' in the 2003 Cricket World Cup for scoring 673 runs, the highest by any one in a single Cricket World Cup.
Nagpur Today spoke with some prominent personalities, journalists and students of city about retirement and farewell of Master Blaster Sachin Tendulkar and his final Test match of his life against the West Indies. The emotionally charged reactions and comments are reproduced here:
Naresh Waghmode a Private Company Employee & Sachin's Childhood Friend said, 'I was in a state of shock when I heard the retirement news of the Master Blaster. I have known Sachin since he was 14 years of age. We met in 1987 accidentally when Sachin came to Nagpur to play U-15 Junior Zonal Cricket Tournament. He is still innocent like a 13 year old child. But he has taken the correct decision at the right time and even after retiring, he will be around for quite a long time to inspire the young aspirants. And to wish and bless him for the final test of his life, I am taking sacrament (Prasad) from Ganesh Takdi Mandir for him to Mumbai. He has also invited me to watch the final match. So I am in Mumbai. Naresh also added that Kaku (Sachin's mother) will also be going to the stadium to watch his final match.
Team Captain Vidarbh team Shalabh Shrivastava said that he has taken the right decision of retirement since he knows about his capabilities at this stage. But his discipline, dedication and attitude towards life and game, is remarkable. Sachin Tendulkar is considered one of the complete batsmen ever. He has hit all the shots in the book. He is also unarguably the biggest crowd puller and icon of the game. Everyone must follow his path and ethics in life.
President of Sports Journalist Association Ram Thakur said, 'Cricket is incomplete without Sachin. We never forget him and will miss him at the pitch'. He added that Sachin is irreplaceable and there is no one to take his place presently in our team. We are in a dilemma whether to celebrate or mourn his retirement.
Tresurer of SJAN Suhas Nayse said that the retirement news is heart rendering news for everyone who loves cricket. We'll definitely miss Sachin in upcoming matches but he has taken the right decision at the right stage as everybody is expecting the same. Cricket fans who would be at Wankhede Stadium to applaud their hero know they would not see him in action on the crease again and Sachin Tendulkar knows he won't be there to receive the adulation of his fans after the historic 200th test played by him. But there would be happy memories of the matches played by Sachin Tendulkar which would be treasured by his fans for years to come and I wish him a very best of luck for the final test of his life.
Animesh Sharan an Engineering student said, 'Everyday has its dawn, be it a bright sunny day or a cloudy day. Sachin is and will always be one of the brightest days of cricket but he is not ageless. So, even the lord of cricket has to give up some day. For leaving the field, I feel he is the best judge for this situation as he knows his physical capacity and even knows till what extent his body can support him' ; and talking about someone else taking his place, he said 'Sachin has created record for almost 23-24 years which is really tough for the cricketers but it's not impossible. Some of the new players like Virat Kolhi can step in his shoes or maybe his own son Arjun Tendulkar can be his father's successor'.
Arjun shrivastava a CA student said, 'The decision taken is absolutely right but cricket will never be the same without Sachin. The decision taken by him could have been taken a bit earlier as his form was a bit out'. While expressing his opinion about someone else taking his place, He said 'No one can replace Sachin and his techniques, You see? The God can never be replaced'.
Devansh Jayaswal an Engineering Student said, 'The decision take by Sachin is right and is taken on time. Everything has to come to an end, and it's ending in the right time'; and talking about someone else taking his place in the team, he said 'his place can be taken in future, tough job but can be done'.
Shivani Somani an Engineering student said, 'Sachin leaving the field is definitely the biggest loss for Indian cricket, but on a realistic front he had to considering his fitness issues with age and even said that the decision was on right time since he gave some of his best performances in his cricket lifetime' ; and talking about someone else taking his place, she said 'Nobody can ever replace him, no doubt there will be great players in the future but it's impossible to imagine a "Next Sachin".
Anuj Kumar an Environmental engineer said, 'Yes, if I keep in mind Sachin's detoriating fitness then I would say it's the right decision and at right time'; and talking about someone else taking his place, he said 'Virat kolhi or Rohit Sharma may bring laurels for indian cricket as Sachin did and thus may take his place, but sachin will be in our heart forever.
Arjun Chhibber a Bsc Economics student said, 'Yea it's time Sachin retires as it's his 200th test and he has served his country's cricket and added stars to it' ; and talking about someone else taking his place, he said 'There are many players to fill his spot but nobody can ever replace him'.
Manisha Kumar a housewife said, 'Yes, Sachin's decision is right and the go of cricket can't be wrong in taking such a decision'; and talking about someone else taking his place, she said 'I don't think anyone can ever in the present or the future can take his place'. Sachin is "Na Bhuto na Bhavishyati".
Anmol Kheta a Law student said, 'Yes, the decision taken by him is absolutely correct as he has already achieved what he wanted to and bought laurels for the country' ; and talking about someone else taking his place, he said 'No. no one can take his place as no one can stand'.
::: Pallavi Madke & Sanjeevni Saran