Nagpur: Cold breeze engulfed the city of oranges at the crack of the dawn on Saturday whereas the temperature slipped further as dusk fell onto the lamp-illuminated city streets. As the clouds post the recent rains filtered away to give way to open skies, the cold weather prevailed throughout the night.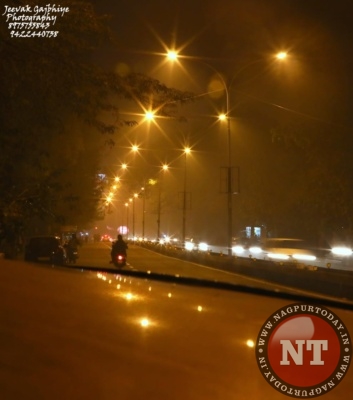 The December chills are back in Nagpur prompting the dwellers to dig out woollens and warm clothes from their closets. On Saturday, when the winter cold was romancing the chilled out night, one of the city photo enthusiasts Jeevak Gajbhiye captured the winter deserted streets of Nagpur. The picture has been enticing the city revellers and made it the hot property of chilly weather.
So here is Nagpur Today presenting this beautiful picture as a treat for you eyes. With the city temperature falling to 12.3 degrees on Saturday, the days are fast disappearing into nights without giving a hint of evening. The city is expected to feel the coldest days of the year in coming week.