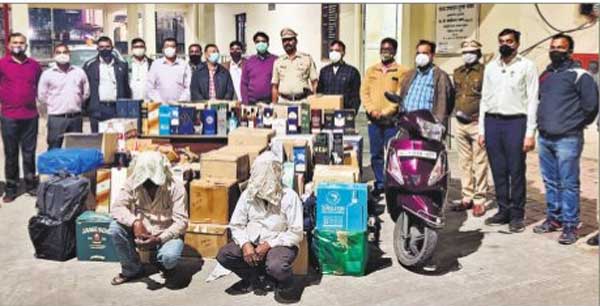 Nagpur: Acting on a tip-off, a squad of State Excise Department raided an electronics showroom near Shani Mandir, Sitabuldi, and seized 20 cartons of Scotch whisky manufactured in Madhya Pradesh. Later, on the basis of information by the showroom employees, the squad raided a house in Navjivan Colony, Wardha Road, and seized 25 more cartons of Scotch whisky. The seized whisky is worth Rs 15 lakh. Two persons have been arrested in this connection.
The raid was conducted on Mangalam Traders, according to a report in a Hindi daily.
The stock of Scotch whisky was brought from Madhya Pradesh by evading Excise Duty. The Scotch brand has been banned in Maharashtra. It was for the first time that the liquor stock was seized from an electronics showroom in Nagpur. The brand of Scotch whisky is in great demand in Nagpur and hence brought from Madhya Pradesh at cheaper price and then sold in the city at a premium.
According to report, when the State Excise Department squad started inspecting Mangalam Electronics Showroom, they found bottles of Scotch whisky stuffed in boxes of fans and other electronics tools. Later the squad also raided the house in Navjivan Colony. Total 45-50 bottles of Scotch whisky worth Rs 15 lakh were seized.
The raids were conducted by Inspectors Subhash Khare, Pravin Mohatkar, Kishore Chaudhary, Sub-Inspectors Mohan Patil, Mukund Chipitwar, Vinod Bhoyar, Vishal Kolhe and other staff under the guidance of Deputy Commissioner Mohan Varde and Superintendent Pramod Sonone.