Nagpur News : One week technical workshop for Second year students of E-branches ENTRIX 6.0 has been inaugurated at Electronics Engineering department of ShriRamdeobabaCollege of Engineering & Management on 22nd January 2014.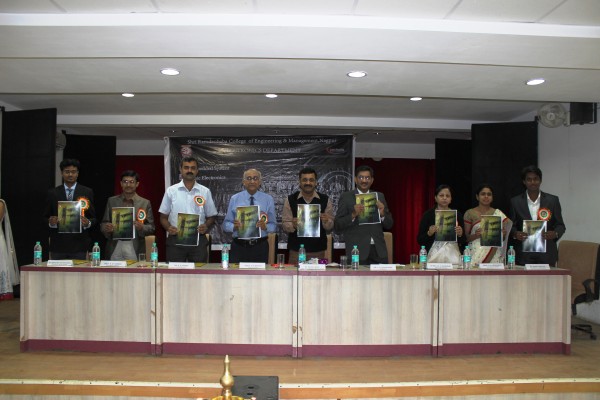 The workshop was inaugurated at the hands of Mr. Nilesh Kate, Director, Gentech Engineering Group, Nagpur. Dr. V.S.Deshpande, Principal, RCOEM presided over the function. Prof. Q. H. Jeevaji, Director, Department of Management Technology, RCOEM ; Dr. R. S. Pande, Vice Principal, RCOEM; Dr.(Mrs.) A.A. Khurshid; HOD, Prof. B. M. Hardas and Prof. Gouri Morankar Convener ENTRIX 6.0 ;Mr. Mohit Malviya, President ELECTOLITZ student society and Mr. Abhishek Bharadwaj technical coordinator ENTRIX 6.0 were prominently present on the dais.
Mr. Abhishek Bharadwaj, technical coordinator made introductory remarks about ENTRIX 6.0 & introduce various sessions to be conducted in week long workshop. In her address Dr. (Mrs.) A. A. Khurshid; Head of the department highlighted the importance of such type of workshops in career & appeal participants to take maximum advantage out of it. Prof. Q. H. Jeevaji advised the participants to read basic standard reference books for their study. Dr. R.S.Pande, Vice-Principal in his address recalled his association with ENTRIX since its inception. He congratulated Electrolitz student society for continuing the legacy ahead.
Chief Guest Mr. Nilesh Kate in his address advised students to learn fundamentals & take advantage of such a workshop. He spoke at length about Focused approach and its importance in shaping innovations.  Dr. V.S.Deshpande in his Presidential address applauded Electronics Engineering department for arranging such a workshop for the students. He hopes that team ENTRIX will broaden their horizon in near future with interdisciplinary approach. About 140 Students participated in this workshop. Souvenir of ENTRIX 6.0 was also released on the occasion. Electrolitz Students were felicitated for painting two Graffiti walls in RCOEM campus. Mr. Karandeep Singh Khokhar & Ms. Surabhi Mahajan compared & Mr. Mayur Khandelwal proposed vote of thanks.