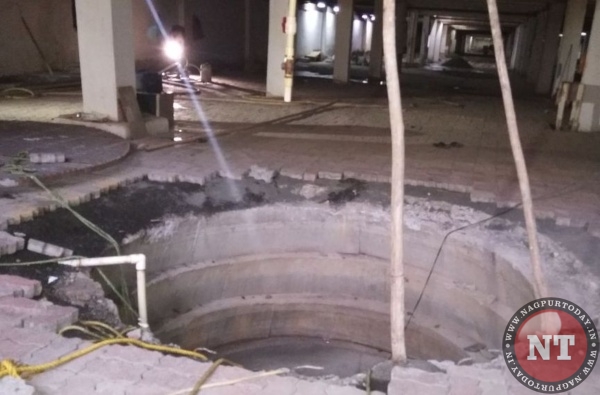 Nagpur: The kin of three labourers who died due to inhaling toxic gas while cleaning a well at basement of Empress Mall Residency will be given a compensation of Rs 12.5 lakh each. The compensation amount includes Rs 8 lakh each from Empress Mill Residency management, Rs 2 lakh each from Chief Minister's Relief Fund and Union Minister Nitin Gadkari. The Empress Mall Residency management has already given demand draft of Rs 6 lakh each and assured to give additional Rs 1.5 lakh each to the kin of the deceased labourers within a week. Rs 50,000 each were given on the day of tragedy by the Empress Mall management, according to Deputy Mayor Deepraj Pardikar. The total compensation amount comes to Rs 12.5 lakh.
Pardikar appreciated the role of BJP leaders including Nagpur Central MLA Vikas Kumbhare and former Mayor Pravin Datke for apprising the Chief Minister Devendra Fadnavis and Union Minister Nitin Gadkari about the tragedy and urging them to provide compensation to the kin of the deceased labourers.
It may be recalled, after the tragic death of the three labourers on Saturday, the aggrieved relatives of three labourers on Sunday protested at Empress Mall with the dead bodies demanding proper compensation. Carrying the bodies, the relatives stormed into the mall and staged a sit-in for over 10 hours.
Also Read: Mob fury at Empress Mall after 3 labourers' death; Shoppers stuck
The deceased were identified as Dipak Mahadeorao Gawate (45), a resident of Sugat Nagar; Ajay Maroti Garodi (45), a resident of Ladpura, Pachpaoli, and Chandrashekhar Jagobaji Barapatre (43), a resident of Naik Talav, Bangladesh. BJP MLA Vikas Kumbhare and former Mayor Pravin Datke had met the protesters and assured Rs two lakh compensation each from Chief Minister and Union Minister Nitin Gadkari.
'My husband was forcibly sent to the well':
One of the deceased Deepak Gawate was working as plumber and water releaser at Empress Mall Residency. Deepak's wife Archana said her husband was working there since past 7-8 years. An electrician should have been sent inside the well for retrieving the pump. Instead, the Manager and Supervisor forcibly told her husband to enter the well. The other women working at the place said Deepak had refused to enter the well be he was pressured to do the job. Deepak's son Palash studies in 8th class while daughter Nidhi is a Class X student.
'Salary was not being paid':
Ranjana, the wife of deceased Chandrashekhar Barapatre said that her husband was working with Deepak as helper since past 7-8 years. She alleged that the Empress Mall Residency management had not paid him salary for two months. But still he was working in the hope of getting the salary. Chandrashekhar's son Adarsh is student of Class X and daughter Payal is studying in Class IX.