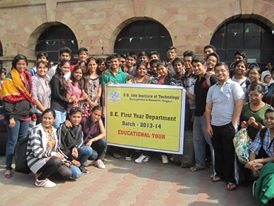 A 10 day educational tour was organized by the first year department of S.B.Jain Institute Of Technology with the humble support of Ceo of the college Sanjeev Agrawal, Principal Narendra Bawane and First Year Head of the department Avinash Nitanawre for the students .
Total number of students who were a part of the tour was 45 and teachers were also present throughout the tour to guide the students. Journey started from Nagpur – Delhi and then Shimla, Manali.
All the students were being taken to Indira Gandhi Memorial Museum, Kutub Minar, Lotus Temple, Akshardham. Soon the tour reached to its final destination Shimla & Manali.
River rafting was being sport by the students and teachers together thoroughly enjoyed it. The trip also included holy place like GOLDEN TEMPLE, then to the historic JALLIANWALA BAGH and last to the ultimate WAGHA BORDER. A mind-blowing performance was shown by the BORDER SECURITY FORCE. The tour was coordinated by Prof Mahesh Janbandhu and DG Mangrurkar and was supported by Prof Rupali kelkar and Jyoti Agrawal.