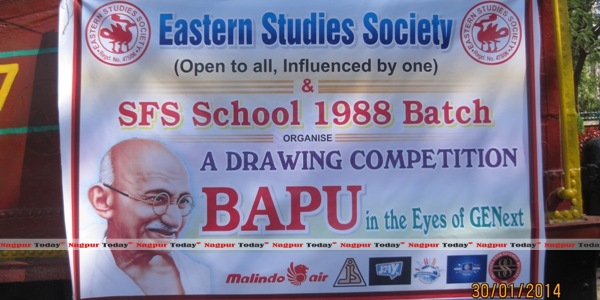 Nagpur News.
The Eastern Studies Society and SFS School 1988 Batch organized a drawing competition  on the topic "Bapu In The Eyes of Genext" today (January 30) in association with GPS and Jagsons Travels Pvt.Ltd. The event was held to mark the Martyrs' Day. The function was attended by around 600 children from different schools namely Swastik School, Bhola School and Mecosabagh High School.
This event has been organized for creating awareness on Gandhian Thoughts among the upcoming generation. Interesting Thoughts emerged during the event as some children came out with many novel ideas about the Father of the Nation.
Most of the schools that participated were eagerly awaiting this event as the biggest outsider event for themselves. Speaking on the occasion, Satish Nair said, "Although this may be his brainchild but the Eastern Studies Society has brought up the baby in the best possible way. The event was first started in the year 2010 and it is just 4-year old but has grown from just 75 children to 600 children today."
Rishiraj Singh Anand, speaking on the occasion, said, "Mahatma Gandhi is a way of life and a thought process. Merely a body leaving this world cannot do harm to one and all but imbibing of Gandhian Thoughts in the minds of Indians and the world acts as a fulcrum of support to balance the see-saw  of violence in this world."
The Principals of the schools thanked the event organizers for making the children understand the value of Gandhian Thoughts in today's violent world and also thanked the Railway authorities for the space provided by them for this noble cause.
Best wishes were bestowed upon by the upcoming Bollywood actress Nataliya Kozhenova who acted in the offbeat movies like Anjuna Beach. The Ukrainian-born star, who loves acting in Bollywood movies, in her message, said that Mahatma Gandhi is the universal personality of peace and she has lots of respect for him since her childhood. Due to her busy schedule, she could not make it to the event this time but for sure, will make it in the next year.
The Guinness Book of World Record holder Shashank Sakhre was also graced the event.
The function was attended by many people from different walks of life and profession including Dr. Abdequeam Chimthanwala, Rahul Gedam, Vikram Neb, Rajiv Khurana from the 1988 Batch of SFS High School,  Anand Chandrani from Sarathi Trust, Goldy Tuli and Ravindeer Singh Rana, Sagar Angalwar, Dipin Khurana, Ayaz Khanwala, Shiraz Khanwala, Asif Baig (Babban Hotel), Bobby Khurana, Sohail Khan and others.