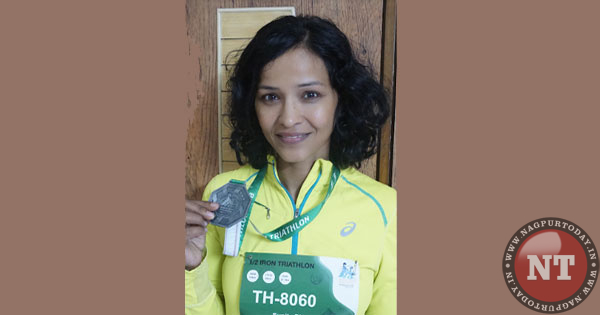 Nagpur: Dr. Sunita Dhote has finished Hyderabad IRONMAN TRIATHALON 2018 with no IRONWOMAN in title on 11 November, 2018 which includes thrice challenge- 1.9 kms Swimming followed by 90 kms cycling and 21 kms running', which is an ultimate test of stamina, patience, endurance, fall & recovery ….rather many more countless happenings. Till date she is only lady from Nagpur to complete this toughest halfironman.
She is professor with Shri Ramdeobaba College of Engineering and Management, Department of Management Technology.
She gives credit of her success to Principal Dr. Rajesh Pande, HOD Dr. Chandan Vichoray, her colleagues, her sports and fitness gurus Dr.Amit Samarath, Dr. Nina Shahu & Dr. Shoeb, her running buddies, her brother Ganesh Kshirsagar and Rajendra Jaiswal Sir for all support, Miles N Milers, Orange City Runners, her husband Nitin Dhote and two sons Rajas (16years) and Tejas (19 years) for continuous support and encouragement. She extends her gratitude to each and everyone who always encourages sports as a part of cheerful life.