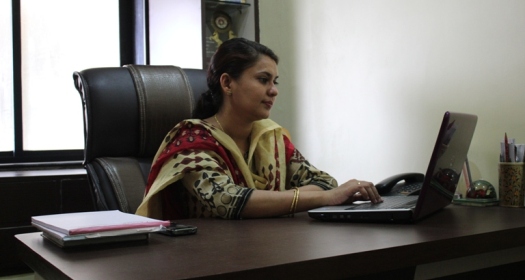 Dr. Geeta Verma is a prominent Ayurvedic practitioner of the city and has over fifteen years of clinical experience.
Dr. Verma is a post graduate (M.D) in Ayurveda from Nagpur University. She has also completed the prestigious C.R.A.V. program conducted by the Rashtriya Ayurveda Vidyapeeth, New Delhi .
She has a fully equipped clinic and Panchkarma centre (Antara Wellnesss Center) which offers traditional therapeutic and beauty treatment packages, each designed according to individual constitution and ailment. Specialized treatments for ailments such as arthritis, obesity, spondylitis , paralysis,
skin diseases sinusitis etc. are her forte. Rejuvenation therapy, stress management, yoga and dietetics form an integral part of her treatment methodology.
She has developed a specialized treatment for obesity which results in instant inch loss without use of any machines. The treatment leads to considerable weight loss ( 6-8 kgs per month ) including for patients who suffer from chronic diseases like diabetes , thyroid etc.
Nagpur Today: What are the symptoms in Cervical  Spondylitis?
Dr.Geeta Verma:i. Pain in the neck, shoulder area, upper back and arms.
ii. Numbness and tingling sensation in the upper arms (Limbs).
iii. Giddiness, loss of balance, shooting pain in the back of head.
iv. Sometimes nausea , or vomiting sensation.
v. Difficulties in the movements of neck or stiffness in the cervical area.
NagpurToday: What are the common reason's for Spondylitis?
Dr. Geeta Verma: It happens because of inflammatory swelling of the disk which is placed  between two vertebrae. wrong postures, sudden jerks in accidents, sedentary lifestyle, long hours  in front of computer or continuous work on computer, excessive driving specially two wheeler . Sometimes it is hereditary.
Nagpur Today. How is it treated by Ayurvedic Science?
Dr. Geeta Verma: In Ayurveda it is know as Grivagat vata. There are wonderful drugs like Sinhnad guggul, Rasnadi guggul, Maharasnadikadha etc.which can be taken at home after diagnosed by Ayurvedic Physician. In Pancharkarma, we advice Griva basti therapy for 1 to 2 weeks.
Nasya is also administered for 1 to 2 weeks along with these, body massage with medicated oil followed by medicated steam is given.
Nagpur Today:What are the treatments provided by you?
Dr. Geeta Verma: After medical examination and thorough interrogation  by Ayurvedic Physician Dr. Geeta Verma, a Panchakarma package is specially designed according to the patient's history of disease.
The duration Panchakarma  depends on how chronic the pain is or disease and age of the Patient and the Profession. The Panchakarma is advised for continuous 16 days. Treatment is started with massage of the body with  medicated oil. The oils are homemade and manufactured In-House. The massage is followed by medicated steam. Total procedure of Snehana and Swedan  lasts for about 45 minutes.
After this Nasya Therapy in which medicated oil is poured in both the nostril after massage and hot formentation of face is done. The dose of nasal oil is increased everyday till the eighth day. Then the oil is changed for another eight days. This is followed by Grisa vasti in which a ring is fixed on the back of the neck with dough. Specially designed bed is used for this. Medicated oil is poured in it and the temperature of this oil is maintained for 30 minutes.
Next treatment is Pinda sweda, In this fresh leaves of medicinal plants or dry powder of some herbs garlic, methi or fenugreek, tamarind, coconut etc are mixed with some medicinal oils. Thus bundles made is used for hot formentation of upper parts of the body.
Lastly, Basti that is medicated enema in oil or decoction forms is administered. Along with the Panchkarma Therapies suitable medicines are given to be taken at home.
Nagpur Today: How much effective is this Ayurvedic treatment? What are the Precautions to be taken by the patient?
Dr. Geeta Verma: The Patient starts getting relief after a week and a within a period of three months, Symptoms of Cervical Spondylitis are relieved. Then the patients are taught correct postures to be followed in daily routine along with this Ayurvedic diet has to be followed. When the patient is relieved of all these symptoms of disease few Yogasana are taught so as to avoid relapse. The Patient has to avoid excessive driving, continuous working in front of computers, using of thick uneven pillows lack of exercise and lifting of heavy objects.
Nagpur Today: How much does the treatment in Cervical Spondalytis cost ?
Dr. Geeta Verma : It depends on the duration of the treatment .It may cost around 5000 rupees and expenses for the medicines may be around Rs 600 for a week.
Nagpur Today: your advice to the patients ?
Dr. Geeta Verma : Patients with such type pains, keep on taking pain killers for a longer period. They are not aware of any such treatments available. Some people are advised  to continue with rigorous types of exercises, which should be strictly prohibited in this disease.