Dr. Gaikwad Intensifies Poll Campaign, Inaugurates Party Office of BSP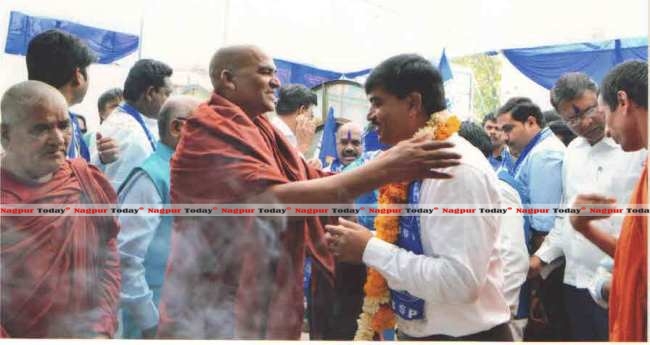 Nagpur Today.
Nagpur, 30 March – Dr. Mohan Gaikwad (Patil), contender for the Nagpur Lok Sabha seat from the Bahujan Samaj Party today led a massive scooter rally as part of his election campaign. The rally began at Samvidhan Chowk, and covered all of West Nagpur. Dr. Gaikwad greeted his supporters who had thronged in thousands from an open jeep.
The rally coordinated by District Vice-President Mr. Avinash Badge, covered major areas like Khalasi Line,  Gaddigodam, Sadar, Chaoni, Mankapur, Jhingabai Takli, Gittikhadan, Borgaon, Gorewada, Jagdish Nagar, Friends colony, Bhisenkhori, Dabha, Futala, Telankhedi, Ramnagar, Gokulpeth, Dharampeth, Pandhrabodi, Samata Layout, Hilltop, Ambazari, etc. A special feature of the rally was offering floral garlands to every statue of Dr. Babasaheb Ambedkar on the way at the hands of Dr. Mohan Gaikwad.
Among hundreds of scooterists, prominently present in the rally were Vidhansabha President Mr. Prafful Jambhulkar, Vidhansabha Incharge Mr. Pankaj Borkar, BVF Commander Ashok Dongre, West Nagpur Incharge Mrs. Sangeetatai Mangade, Mr. Kiran Khode, Mr. Dhanraj Dhadkar, Mr.  Viraj Dhone, Mr. Ashish Urkude, Mr. Santosh Mule, Mr. Shailesh Shewade, Mr. Sudhir Sonkamde, Mr. Prashant Choudhary, Mrs. Sheetal Poharkar, Vishal Manwatkar, Mr. Sanjay Nagrare, Mr. Dilip Sontakke, Mr. Kuldeep Lokhande, Mr. Santosh More, Mr. Pandhari Sahare and Mrs. Pratibha Ramteke.
Dr. Gaikwad, also inaugurated party office of BSP at Gandhi Nagar Main Road. Mr. Sandeep Gaikwad, Mr. Vinod Gaikwad, Mr. Kiran Khode, Mr. Amol Kolhe, Mr. Sachin Fukat, Mr. Atul Ingole, Mr. Prashant Kshirsagar and Mr. Prafful Deo made their presence felt on the occasion. They congratulated Dr. Gaikwad on the opening of the new office and wished him success in the elections. They expressed confidence that the office will serve as a nodal point, making networking easier.
Bhanteji Extend Support to Dr. Gaikwad BSP Padyatra in North Nagpur: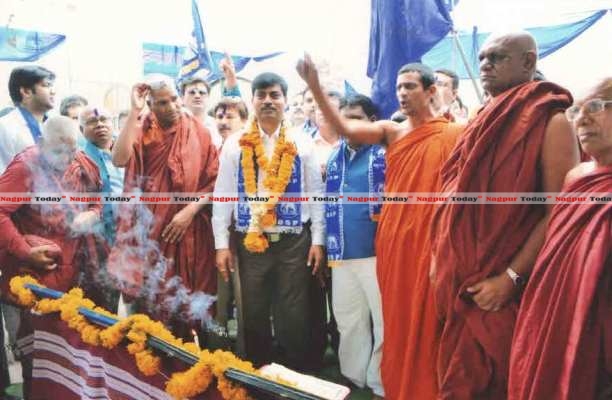 To support the electoral efforts of Dr. Mohan Gaikwad, BSP District President Mr. Vishwas Raut led a Padyatra in North Nagpur starting from the BSP campaign office at Mahendra Nagar. The rally was flagged off with the trademark blue flags by Dr. Mohan Gaikwad. Bhadant Dhammapriya, Bhadant Karunik, along with Panchvargiya Bhikkusangh also expressed their support to Dr. Gaikwad by participating in the padyatra. At various places the BSP leaders indulged in door-to-door interaction with the localites, who expressed confidence in Dr. Gaikwad and wished him success in the elections. The rally covered a vast area including Mahendra Nagar, Yadav Nagar, Ekta Colony, Prabuddha Nagar, Yashodhara Nagar, etc.
More than 200 people participated in the padyatra. The Padyatra was prominently attended by NMC Party Leader Murlidhar Meshram, Sabhapati Gautam Patil, Corporator Abhishek Shambharkar, Mohd. Jamal, Nagsen Khobragade, Manisha Ghodeswar, Lalita Patil, Kishor Gajbhiye, Sanjay Jaiswal, Mohammad Jamal, Kshitij Pakhikhade, Punjabrao Meshram, Pratap Suryavanshi, Sunil Dongre, Vilas Somkuwar, Jagdish Gajbhiye, Vishal Godane, Prakash Deshbhratar, Balwant Raut, Anil Chandekar.